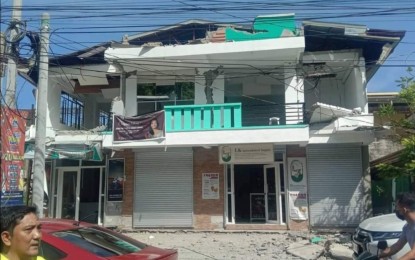 MANILA – Department of National Defense (DND) officer-in-charge Undersecretary Jose Faustino Jr. said the Armed Forces of the Philippines (AFP) has been instructed to mobilize all of its assets to assist communities that were severely hit by the magnitude 7 earthquake that jolted Lagangilang, Abra and other parts of Luzon on Wednesday morning.
Faustino made this remark as he presided over the meeting of the National Disaster Risk Reduction and Management Council (NDRRMC) which was convened to assess the effects of the earthquake.
"Undersecretary Faustino informed the Regional DRRM Councils (RDRRMCs) that the AFP has been instructed to immediately mobilize assets to assist the affected local government units," DND spokesperson Arsenio Andolong said in a press statement.
"The Office of Civil Defense is in communication with its regional offices for damage assessment and coordination for deployment of response operations," he added.
As this developed, Faustino, who is also NDRRMC chair, has also virtually met with RDRRMCs of Ilocos, Cagayan Valley, Cordillera, Central Luzon, and the National Capital Region (NCR) to discuss the impact of the temblor.
"OIC Faustino confirmed the readiness of the AFP to support local operations of the LGUs. We have sufficient relief stockpiles prepositioned in these regions to support local relief efforts undertaken by the LGUs," NDRRMC spokesperson Mark Cashean Timbal said in a message to reporters.
He also added that road clearing operations are ongoing in the Cordillera region.
No damage was reported in the dams within the affected regions.
The NDRRMC is also verifying one person who was reportedly killed after being hit by falling debris in La Trinidad, Benguet, he added.
Signal and power interruptions were also reported in Benguet.
"Please inform the public that the EQ (earthquake) has aftershock potential kaya po dapat laging listo, mag-duck cover and hold ( so we must be vigilant, let's do the duck, cover and hold) and make sure to coordinate with local authorities for safety, evacuation and relief activities which are being supported by the NDRRMC," Timbal said.
He also added that Executive Secretary Vic Rodriquez is now with Faustino at the NDRRMC Operations Center in Camp Aguinaldo, Quezon City to "join discussions on the updates for the EQ."
"ES Vic Rodriguez is currently being briefed on the updates and actions taken by the LGUs and regional agencies," the NDRRMC spokesperson added.
Timbal said that Faustino confirms that there will be aerial inspections by the Philippine Air Force to assess the damage.
"Aerial inspections to be assisted by the Air Force as a priority. He (Faustino) will do inspections after," he added.
Faustino also confirmed the readiness of NDRRMC's PHP200 million quick response fund for use in case the LGUs would require support.
No tsunami alert
No tsunami alert or threat in Ilocos has been issued, Timbal added.
"As per orders of our PNP OIC, Lt. Gen. Vicente Danao Jr., our personnel in the affected areas must coordinate with the local DRRMOs to determine how our police personnel on the ground can effectively and efficiently assist in the overall response of both the local and national governments, " PNP director for operations Maj. Gen. Valeriano de Leon said in a statement.
De Leon said they are currently coordinating with the NDRRMC to determine the number of personnel and assets to be deployed in earthquake-hit areas.
He said an order was also issued to inspect the state of PNP buildings and establishments in earthquake-affected areas.
"We also urged the police commanders to check on our personnel and their families' well-being. If we have personnel who were affected by the earthquake, then they should be given the opportunity to go home to take care of their families," de Leon added.
De Leon stated that they are now awaiting instructions from the NDRRMC on how to mobilize PNP troops for the national government's response in areas that were severely hit by the earthquake.
"We ask our Regional Directors here in Luzon to mobilize standby forces that may be called upon at any moment for any emergency need for assistance from both the local and national governments," de Leon added.
PH Army deploys teams in quake-hit areas
Meanwhile, the Philippine Army (PA), through the 5th Infantry Division, spearheaded humanitarian assistance and disaster response (HADR) efforts after the earthquake.
Col. Xerxes Trinidad, PA spokesperson, said the 24th Infantry Battalion, together with Abra's Provincial Disaster Risk Reduction and Management Office, local police, and other responders, launched disaster response operations for earthquake victims in Abra's capital town Bangued.
"The battalion has deployed two squads to assist in the provincial government's HADR efforts," Trinidad said.'
He added that the PA's disaster response teams in Northern Luzon also remain on alert as the Philippine Institute of Volcanology and Seismology warned of possible aftershocks following the tremor that was also felt in Central Luzon and the National Capital Region.
Meanwhile, PA Chief, Lt.Gen. Romeo S. Brawner Jr., lauded Army responders for their swift action to help victims in the quake-stricken communities of Northern Luzon.
He also promised to provide the necessary support to sustain their HADR efforts to save lives. (PNA)