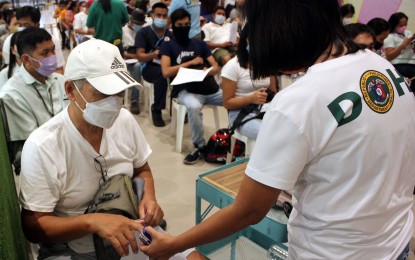 MANILA – All adults aged 50 years old and above and individuals aged 18 years to 49 years with comorbidities can now receive a second booster or fourth dose of the coronavirus disease 2019 (Covid-19) vaccine.
This was after the Department of Health (DOH), through the National Covid-19 Vaccination Operations Center, issued the guidelines for its nationwide rollout.
In a statement Tuesday night, the DOH said the rollout follows the expansion of the emergency use authorization issued by the Food and Drug Administration, which allows certain Covid-19 vaccine brands to be used as second booster doses in the expanded population groups.
It also follows the recommendations provided by the Health Technology Assessment Council.
Pfizer (Tozinameran) and Moderna (Spikevax) are the only mRNA vaccine brands that could be used as a second booster shot, which must be administered at least four months after the first booster or the third dose was given.
Eligible individuals may receive their second booster shot from their local government units (LGUs) or vaccination sites nearest to them.
They are advised to bring their vaccination card and a valid ID.
A medical certificate is not required, even for individuals with comorbidities.
However, medical screeners or doctors at the vaccination sites are authorized to assess and determine whether an individual could or could not receive the second booster shot.
On Tuesday, the DOH launched the PinasLakas booster campaign across the country.
Vaccination activities will be conducted in schools, malls, plazas, and places of worship under the campaign, making Covid-19 vaccines and booster shots more accessible to the people.
As for the house-to-house vaccination, concerned individuals are encouraged to get in touch with their LGUs for guidelines and schedules.
"As vaccine immunity wanes over time, we are dedicated to helping our people remain protected against Covid-19. We are making it easier for as many of our people to avail of the primary series and boosters, including second boosters," DOH Officer in Charge Maria Rosario Vergeire said.
Vaccination, paired with adherence to the minimum public health standards remains the "best defense" amid the pandemic, she added.
About 71,546,355 or 91.61 percent of the country's target population (78,100,578) are fully vaccinated against Covid-19 as of Monday.
Meanwhile, a total of 15,934,251 have received booster shots as of July 17. (PNA)