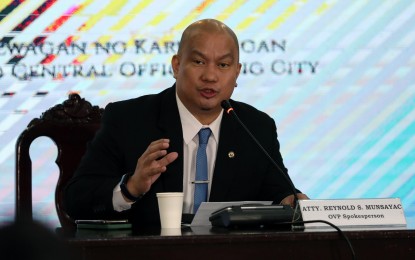 MANILA – Vice president Sara Z. Duterte is set to launch a nationwide livelihood program called "Magnegosyo ta 'day!" to financially aid women and members of the Lesbian, Gay, Bisexual, Transgender, Queer, Intersex, Asexual plus (LGBTQIA+) community, Office of the Vice President (OVP) spokesperson Reynold Munsayac said Wednesday.
In a joint press briefing at the Department of Education (DepEd) Central Office, Munsayac said this will be part of the extension of the basic services that will be offered by the OVP.
"Qualified beneficiaries will be entitled to a grant of PHP20,000 capital, and will undergo basic business management training to engage in ventures like livestock, sari-sari stores, goat dispersal, native chicken, and mini-meat processing," he said.
He said the VP believes this inclusive program would ensure "economic activity, generate employment, and spur economic growth," as the country recovers from the pandemic effects.
But training for beneficiaries must be given to make sure they will properly utilize the financial assistance.
As of now, the OVP main office and its six satellite offices only offer burial and medical assistance nationwide, which have actually provided aid to over 16 million beneficiaries.
"The office of the Vice President is pleased to announce that in just less than one month, the OVP has processed claims for medical and burial assistance amounting to PHP16,540,243.94, and already released the amount of PHP7,416,109.37 to qualified recipients," he said.
Permanent VP office
To further drop long-term financial liabilities, Munsayac said Duterte has planned to establish a "permanent home" for future vice presidents.
"This will result in stability and reduce cost in office operations, considering that future Vice presidents will no longer need to rent temporary offices to house their staff," he said.
This permanent construction intends to cater operations of the succeeding vice presidents as well as the current and future OVP personnel.
No details were given yet as to where the OVP permanent office will be established. (PNA)