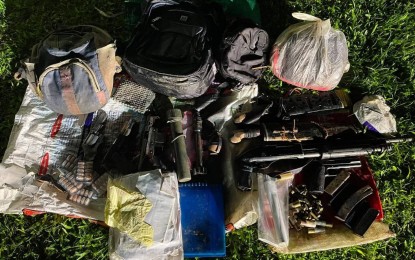 DUMAGUETE CITY – Relatives of the Communist Party of the Philippines-New People's Army (CPP-NPA) rebels who were killed in a clash with troops of the Army's 62nd Infantry Battalion (62IB) in Canlaon City, Negros Oriental on Wednesday claimed their bodies after positive identification.
A family member claimed the bodies of Cristina Jacolbe alias Chave, 40, finance officer, and Everly Kee Jacolbe alias Kaye, 18, a member of the Central Negros 1 of the Komiteng Rehiyon-Negros, Cebu, Bohol and Siquijor (KR-NCBS), from the funeral parlor where they were brought after extraction from the encounter site.
Meanwhile, former rebels (FR) said the third person killed in that encounter was not Ernie Jacolbe alias Frezy, 42, vice commanding officer of Section Guerrilla Unit, CN1, as initially reported, a report from the 62IB said.
He was identified by the chairperson of Barangay Budlasan as Rodan Montero, also a member of the CN1, the Army said.
Military sources said they believe that Ernie Jacolbe figured in the same encounter but managed to flee.
The FRs said they knew the deceased while in the underground movement and also identified the two women as belonging to the same family, although their relationship was not established.
The three NPA members were killed during a 10-minute firefight between their group of 10 armed individuals and 62IB troopers in the hinterlands of Sitio Natuling in Barangay Budlasan, Canlaon City on Tuesday.
The soldiers were on patrol in a nearby village when they received information from a concerned civilian on the presence of the armed group, which resulted in the encounter.
Recovered from the clash site were the firearms, ammunition, suspected subversive documents and personal belongings.
Lt. Col. William Pesase, 62IB commander, told the Philippine News Agency that the local government unit (LGUs) of Canlaon City is extending assistance for a decent burial for the slain rebels.
He reiterated his call to the NPA to voluntarily surrender or they will end up with the same fate as their dead colleagues in the underground movement.
"Let us unite and help one another for the peace and development of central Negros. For those who are still in the armed group, the government is open to receiving you and the issues that you have been raising are being addressed," Pesase said in mixed English and Filipino.
"All the LGUs in our area are very active through the Task Force to End Local Communist Armed Conflict (TF-ELCAC) to address the root causes for the rebellion," he added.
The CPP-NPA is listed as a terrorist organization by the United States, European Union, the United Kingdom, Australia, Canada, New Zealand, and the Philippines.
The National Democratic Front has been formally designated as a terrorist organization by the Anti-Terrorism Council on June 23, 2021, citing it as "an integral and inseparable part" of the CPP-NPA created in April 1973. (PNA)