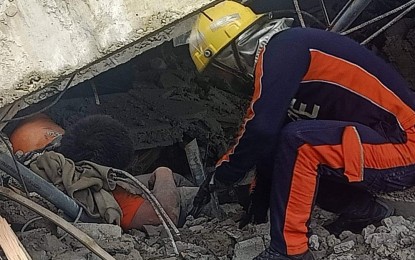 BAGUIO CITY – Three persons died in the Cordillera Administrative Region (CAR) due to the magnitude 7 earthquake that hit Abra and neighboring provinces on Wednesday morning, the Police Regional Office-Cordillera (PROCor) said.
Police Capt. Marnie Abellanida, information officer of the PROCor, said as of 3 p.m., reports from their different field offices have so far identified three fatalities, including Jefferson Basar, 24, a resident of Tandang Sora, Quezon City. The victim was working at a Rock Fall Netting project in Sitio Bullalayao, Pantikian, Balbalan, Kalinga when the quake hit.
Also killed was Jonalyn Bilan Siganay, 23, a resident of Zone 5, Bangued, Abra. The police said she rushed outside her boarding house during the earthquake but was hit on the head when a wall collapsed. She sustained severe head injuries and was declared dead while receiving treatment at the Seares Memorial Hospital in the capital town.
The third fatality was Aron Pasiking Col-eteng, 25, a construction worker residing in Pinsao Pilot, Baguio City. The victim was in the basement of the building where he was working at Buyagan, La Trinidad, Benguet when the earthquake happened. He was hit by falling debris. He was declared dead at the Benguet General Hospital.
Abellanida said several persons were also injured but the police are still consolidating data about them.
The magnitude 7 earthquake happened in Abra and neighboring provinces around 8:43 a.m. on Wednesday. The Philippine Institute of Volcanology and Seismology said the epicenter was in initially traced in Lagangilang, Abra. An updated report changed the epicenter to Tayum. (PNA)