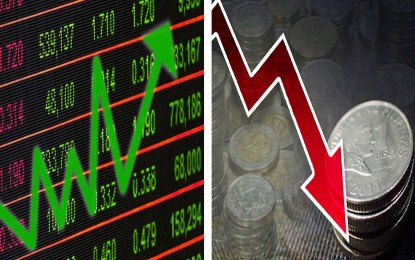 MANILA – Bargain hunting lifted the local stock barometer on Wednesday amid worries about the US economy, while the peso weakened but managed to remain at the 55-level against the US dollar.
The Philippine Stock Exchange index (PSEi) rose by 0.22 percent, or 13.76 points, to 6,236.76 points.
All Shares followed with an increase of 0.17 percent, or 5.59 points, to 3,370.58 points.
Most of the sectoral indices also gained during the day, led by Financials with a jump of 1.3 percent, followed by Services, 0.35 percent; Mining and Oil, 0.27 percent; Holding Firms, 0.12 percent; and Industrial, 0.003 percent.
Only the Property index finished in the negative territory after it slipped by 0.49 percent.
Volume remained thin at 325.86 million shares amounting to PHP3.83 billion.
Decliners led advancers at 100 to 75, while 41 shares were unchanged.
"Local shares were bought as investors became wary of the US, as Walmart slashed its earnings forecasts, fueling concerns that consumer spending might not be strong enough to keep the US out of the verge of recession," said Luis Limlingan, Regina Capital Development Corp. (RCDC) head of sales.
Limlingan said investors are also waiting for the key rate decision of the Federal Reserve after the two-day meeting of the Federal Open Market Committee (FOMC) that will end on July 27.
"Wall Street widely expects a three-quarter percentage point increase in the benchmark rate," he said.
The Federal Reserve's fund rate has been hiked by a total of 150 basis points since March to between 1.5 percent and 1.75 percent in a bid to help tame US inflation rate, which continues to remain at its four-decade high.
The US consumer price index (CPI) rose further to 9.1 percent last June, the highest since November 1981.
The wait-and-see stance on the Fed decision affected the peso, although the local unit remained at the 55-level against the US dollar, closing the day at 55.68 from 55.30 on Tuesday.
It opened the day at 55.40 and traded between 55.82 and 55.37, averaging at 55.635.
Volume declined to USD1.007 billion from USD1.43 billion a day ago.
Rizal Commercial Banking Corp. (RCBC) chief economist Michael Ricafort said aside from anticipations of the Fed decision, the local currency was affected by, among others, the drop in US consumer confidence to its nearly one-and-a-half year low of 95.7 for July and the cut by the International Monetary Fund of its 2022 global growth forecast for the third time to 3.2 percent.
He, however, said the market sentiment continues to buoy the local unit after the local authorities' statement of continued preference for domestic borrowings instead of tapping foreign sources, as well as bids for further government reforms.
He forecast the peso to trade between 55.40 and 55.80 to the dollar on Thursday. (PNA)