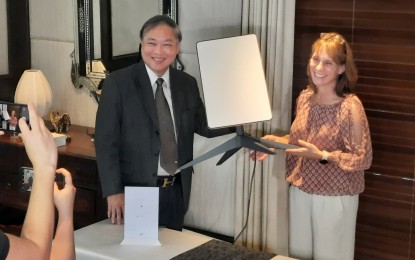 MANILA – Filipinos in geographically-isolated and disadvantaged areas (GIDA) may soon enjoy free high-speed and low-latency internet service brought by SpaceX's Starlink through the Department of Information and Communications Technology's (DICT) "BroadBand ng Masa" program.
In a press conference at the Manila Hotel on Wednesday, DICT Secretary Ivan John Uy said they may begin the free rollout of Starlink-powered internet hubs by the first quarter of 2023 if the satellite-based internet provider is able to launch by the 4th quarter of 2022.
"We're hoping kung ready na rin sila, dapat ready na rin po tayo (if they are ready, then we should be ready too). So, I think first quarter [of 2023]. Ngayon pa lang hinahanda ko na yung mga teams ko to prepare draft terms of reference already (Even now I have asked my teams to prepare draft terms of reference already)," Uy said.
While the BroadBand ng Masa (people's broadband) project is yet to be funded under the 2023 budget, he said the remaining budget for the previous administration's "Free WiFi Program" will instead be used.
"May pondo pa naman nakalaan for the Free WiFi at 'yun ay gagamitin na muna natin (There are still funds for the Free WiFi and that's what we will use) in the meantime while we go through the budgetary process for 2023," Uy said.
During the press conference, SpaceX Government Affairs senior manager Rebecca Hunter said Starlink users may enjoy 100 to 200 Megabits per second (Mbps) download speed and around 30 to 40 Mbps upload speed with a latency of 20 milliseconds (ms)—much better than the Philippine average broadband latency of 33 ms based in a study by Statista in July 2022.
Latency is the time it takes for data to pass from one point in a network to another, with a low-latency internet service providing a positive user experience, especially in data-intensive online activities such as streaming and online gaming.
Both Starlink's satellite dish and router are completely mobile, can be set up in three steps, and are as simple as "plug-and-play."
Based on the company's experience in 40 countries since it began operation in October 2020, Hunter said Starlink has had success in "all sorts of inclement weather" such as rains and cloudy weather.
"Unless there's a typhoon then we suggest bringing it inside. It is very portable," she said.
She said the Starlink kit, complete with a satellite dish and router, would cost USD599 (around PHP33,000) plus a monthly fee of USD99 (around PHP5,500).
Since the cost of a Starlink kit and subscription is too expensive for many households in GIDAs, Uy said the DICT, through the BroadBand ng Masa project, may place such a network in community-shared spaces such as barangay centers in these areas.
"We will provide the connectivity for them. Until such time that the local government or the Department of Social Welfare and Development (DSWD) can give feedback that we have raised them up. We'll keep an eye and over a year or two and once they can afford it, maybe the government can then cut the umbilical cord," he said.
Aside from waiting for the launch of Starlink, he said the DICT would also need to provide power and manpower to these GIDAs before such technology can be used.
"With that as input, we need to provide a good budgetary proposal to Congress as to how many communities, how many barangays we are going to roll out to in the remainder of the year and in the coming year. At ano po yung targets namin at ano po yung deployment schedule namin diyan (And what are our targets and what is our deployment schedule)," he said.
He added that Starlink would also need to pass the requirements under Republic Act 9184 or The Government Procurement Reform Act before their services can be used as part of a government program.
"They have to go through that and see how they will be able to successfully pass that 'obstacle course'," he said. (PNA)