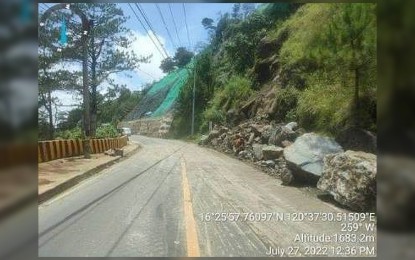 MANILA – The Department of Public Works and Highways (DPWH) on Thursday reported that the partial cost of damage to national roads by Wednesday's magnitude 7 earthquake that hit northern Luzon has reached PHP59.23 million.
In an advisory, DPWH Secretary Manuel Bonoan said the agency has reopened 13 national road sections in the Cordillera Administrative Region (CAR) and Ilocos Region that were rendered impassable in the aftermath of the earthquake.
Citing a report from the DPWH Bureau of Maintenance, as of 6 a.m., the reopened roads are as follows:
Abra
-Abra - Kalinga Road
-Abra - Ilocos Norte Road
-Abra-Cervantes Road
Benguet
-Asin Road, Baguio City
-Marcos Highway
-Benguet-Nueva Vizcaya Road
-Baguio - Bauang Road
-Congressman Andres Acop Cosalan Road
Kalinga
-Mt. Province-Calanan-Pinukpuk-Abbut Road
-Kalinga-Abra Road
Mountain Province
-Mt. Province-Cagayan via Tabuk - Enrile Road
-Mt. Province-Ilocos Sur Road
Ilocos Sur
-Santa Rancho Road (Calungbuyan Bridge)
On the other hand, he said the DPWH quick response teams are still clearing a total of eight roads in CAR and Region 1 which include:
Kennon Road, Benguet (for safety purposes); Gov. Bado Dangwa National Road K0285+600 section in Tab-ao, Kapangan, Benguet (due to rockfall); Banaue-Hungduan-Benguet Boundary Road K0355+600 section in Ap-apid, Tinoc, Ifugao (due to rock collapse); Lubuagan-Batong Buhay Road K0462+010, K0463+000, K0463+400, K0463+700, K0464+000 sections in Puapo, Dangtalan, Pasil, Kalinga and K0464+600,K0464+700, K0464+800 sections in Colong, Lower Uma, Lubuagan, Kalinga (due to rock collapse);
Also being cleared are the Baguio - Bontoc Road, Mt. Data Cliff, Bauko, Mt. Province (due to soil collapse); Tagudin - Cervantes Road, K0341+600 in Ilocos Sur (due to landslide and rockslide); Jct. Santiago-Banayoyo-Lidlidda-San Emilio-Quirino Road K0393+000 Barangay Cayos, Quirino, and K0391+200, Ilocos Sur (due to landslide and rockslide); and Cervantes-Aluling-Bontoc Road K0387+(-950), Barangay Aluling, Cervantes, Ilocos Sur (due to landslide and rockslide).
Meanwhile, the Itogon Bridge along Tagudin - Cervantes Road K0267+519 section in Benguet is still limited to light vehicles for safety reasons.
Assist in road clearing
Meanwhile, the Philippine National Police (PNP) ordered all police commanders in Northern Luzon and nearby regions to mobilize all available equipment that can be used in road-clearing operations.
PNP director for operations Maj. Gen. Valeriano de Leon tasked all regional directors to start the accounting of their respective Reactionary Standby Support Forces to maximize the PNP's assistance in quake-affected areas.
This, as he noted that there are still roads that need immediate clearing not only for access of motorists but also for the transport of relief items for disaster victims.
De Leon explained that augmented manpower and more equipment are required to expedite post-earthquake road-clearing operations.
Citing reports from the ground, he said large boulders and rocks were among those that blocked roads in the earthquake-hit Cordillera Administrative Region.
De Leon added that said police commanders were also tasked to coordinate with the local government units in order to determine where PNP assistance was needed.
"The damage brought by this strong earthquake now requires the Filipino bayanihan for easy and fast accomplishment of our goal of assisting our kababayan in distress," de Leon added. (with Lloyd Caliwan/PNA)