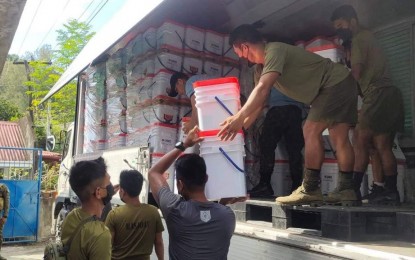 MANILA – The Armed Forces of the Philippines (AFP) on Thursday announced that it has deployed 14 search, rescue, and retrieval (SRR) teams to areas severely affected by the magnitude 7 earthquake that hit Abra and other parts of northern Luzon on Wednesday.
"Since yesterday (Wednesday) the 24th Infantry Battalion (24IB) has helped evacuate the patients in a hospital in Bangued, Abra. 71IB deployed personnel to rescue affected residents in Vigan, Ilocos Sur. 54IB, 72nd Division Reconnaissance Company, 502nd Infantry Brigade, and CAFGU Active Auxillary units helped in road clearing, provided transportation assistance, and conducted search and rescue operations in different areas in northern Luzon," AFP public affairs office chief, Col. Jorry Baclor, said in a statement.
Baclor said the AFP also directed the Philippine Army's (PA) 525th Engineering and Construction Battalion, the Air Force's 505th Search and Rescue Group, and the Naval Installation Command to provide rescue teams to help in the rescue efforts in most affected areas in northern Luzon.
He said AFP Northern Luzon Command (Nolcom) chief, Lt. Gen. Ernesto Torres Jr., also ordered the flight of one C-208 surveillance aircraft for the conduct of an aerial survey on Wednesday.
"Today (Thursday), soldiers continue the search, rescue, and retrieval operations while other units are helping the DSWD (Department of Social Welfare and Development) distribute relief goods to the affected populace," he added.
Baclor said the AFP has ordered its units, through the Nolcom, to maximize the use of personnel, equipment, and other resources to support the humanitarian assistance and disaster response efforts of the local and national governments in badly hit areas to alleviate the situation of the affected residents.
Meanwhile, PA spokesperson, Col. Xerxes Trinidad, said Army reservists and Reserve Officers' Training Corps (ROTC) cadets under the 14th Regional Community Defense Group of the Reserve Command of the Philippine Army assisted in the transport of relief goods and other assistance to the earthquake.
"Reservists and ROTC cadets helped the DSWD Cordillera Administrative Region in hauling essential supplies that will be distributed to quake victims in the quake-stricken villages in Abra, the epicenter of the destructive quake that damaged government buildings, roads, houses, and heritage structures in northern Luzon," he added in a statement Thursday.
Trinidad also said PA units in northern Luzon augmented their standby forces amid strong aftershocks.
"The 5th and 7th Infantry Divisions likewise deployed disaster response units to assist residents and clear key landslide-hit roads in the Ilocos region, Cagayan Valley, and Cordillera," he added.
PA commander, Lt. Gen. Romeo S. Brawner Jr., pledged to prioritize the development of the Army's reserve force that serves as force multipliers in times of calamities and other national emergencies. (PNA)