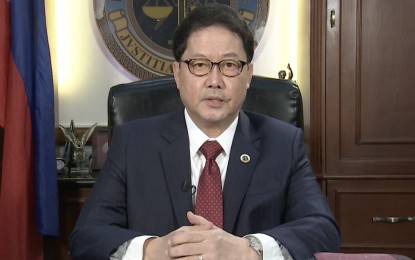 MANILA -- Solicitor General Menardo Guevarra on Thursday said the government will be considering the interests of the country in the International Criminal Court's (ICC) move to investigate the country's war on drugs.
"The state, as distinguished from the government or its officials, whether past or present, has a fundamental interest in the ICC case," Guevarra told reporters.
President Ferdinand Marcos Jr. on Wednesday called a meeting to discuss the ICC case, he said.
Aside from the Chief Executive and Guevarra, also in attendance were presidential legal counsel Juan Ponce Enrile, Executive Secretary Victor Rodriguez, Foreign Affairs Secretary Enrique Manalo, and Justice Secretary Jesus Crispin Remulla.
Former presidential spokesman Harry Roque earlier posted photos on social media of him attending the meeting as "private counsel".
Guevarra said the government's position on the ICC investigation was the only official matter discussed in the meeting but declined to give details so as not to pre-empt the President who may opt to make an announcement on the issue.
In 2017, late Davao-based lawyer Jude Sabio filed a complaint before the ICC on alleged summary killings when President Rodrigo Duterte was the mayor of Davao City.
Sabio before his death claimed he had been induced by personalities in the opposition to initiate the nuisance suit.
In 2018, ICC Prosecutor Fatou Bensouda commenced the preliminary examination of the allegations.
Senators Francis Pangilinan, Franklin Drilon, Paolo Benigno Aquino, Leila De Lima, Risa Hontiveros and Antonio Trillanes then filed a petition, the first of three questioning the country's withdrawal from the ICC.
No major superpower in the globe has participated in the ICC notably for concerns about the encroachment of sovereignty.
In March last year, the Supreme Court (SC) dismissed "for being moot" a consolidated petition questioning the country's withdrawal from the ICC four years ago.
The court said "concern that the country's withdrawal from the Rome Statute abjectly and reversibly subverts our basic human rights appears to be baseless and purely speculative."
The Rome Statute is a multilateral treaty that established the ICC where the gravest crimes under international law are prosecuted. (PNA)