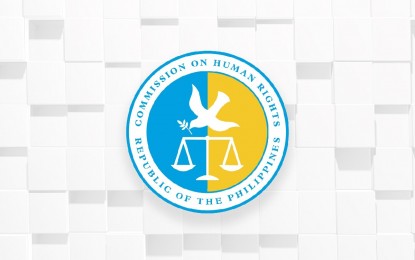 MANILA – The Commission on Human Rights (CHR) on Thursday renewed its call for the wider protection of minors following recent reports that several groups engaged in sexual abuse and exploitation of children are now rampant on digital platforms.
Lawyer Jacqueline de Guia, CHR executive director, cited Senator Risa Hontiveros' recent statement on exploitative labor practice among children.
"She explained in detail how predators use social media platforms to advertise, sell, and trade photos and videos of minors, some of which are large enough in volume to require the services of cloud storage," de Guia said in a statement.
De Guia said the pandemic has brought more exposure of children to cyberspace, which may have significantly increased due to the implementation of a remote learning setup.
"The Commission on Human Rights, as the country's Gender Ombud, strongly denounces the existence of online spaces that perpetuates and promotes the exploitation of children," she said.
"We reiterate that this is a heinous crime that tramples over the rights of minors, and causes lifelong consequences to victims and their families," she added.
The CHR backed anew the passage of Senate Bill No. 2209 or the Anti-Online Sexual Abuse and Exploitation of Children (OSAEC) bill.
De Guia said the proposed legislation would strengthen law enforcement against offenders of online sexual abuse.
It will also improve government coordination and response, she added, through the establishment of the National Coordinating Center against OSAEC under the Inter-Agency Council Against Trafficking (IACAT).
De Guia said the measure will be helpful to require active responsibility from media platforms and internet service providers to take down and delete illegal content related to the abuse and trafficking of minors.
Once the law is in place, De Guia said the CHR "will be equipped" to strongly provide protection to young people.
She emphasized that the "fight against a complex digital network of perpetrators requires a holistic approach."
"Fortifying media and information literacy especially amid the implementation of virtual and blended learning is a must to teach users to be on alert against the dangers of the web," she added.
The CHR noted that efforts to make it accessible to everyone "must also be prioritized."
De Guia said there is a need for the government to make sure that necessary support to victims of cyber trafficking, most especially children and their families, is being provided.
"We call on the general public to be proactive and vigilant social media users and join us in our efforts to provide evidence and report such pages, groups, and other virtual channels engaging in OSAEC-related crimes to authorities," De Guia said.
"It takes a community to raise a child, all the more with the uncertainties of growing up in a tech-savvy generation," she added.
The CHR likewise called for a "share the responsibility of embodying the role of digital guardians to make online spaces inclusive and safe for all—most especially for the vulnerable, most especially for children." (PNA)