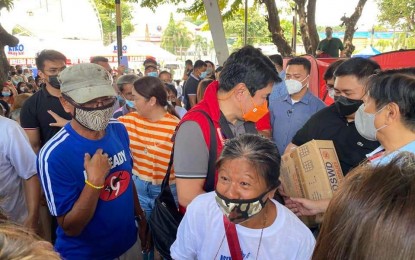 MANILA – The number of families affected by Wednesday's magnitude 7 earthquake that rocked Abra and nearby Northern Luzon provinces has climbed to 4,969 or around 20,000 individuals.
Department of National Defense (DND) officer-in-charge Undersecretary Jose Faustino Jr. announced this during a briefing with President Ferdinand "Bongbong" Marcos Jr. in Bangued, Abra on Thursday.
"The report coming in from the affected region, we have a total 4,969 families or 20,000 persons more or less that are affected in 110 barangays in Region 1 (Ilocos) and Cordillera Administrative Region (CAR)," he added.
Faustino, who is also the chairperson of the National Disaster Risk Reduction and Management Council (NDRRMC), said around 2,312 families in Ilocos Region and CAR are sheltering in the 31 evacuation centers while another 413 in the two regions are sheltering with their families and friends.
In the same briefing, Office of Civil Defense (OCD) Assistant Secretary Bernardo Rafaelito Alejandro IV said in terms of casualties there are five deaths and 131 injured reported.
"In terms of damage to infrastructure, there is damage reported in Ilocos Sur. Also, 61 schools were reported as damaged as well as three bridges. As of reporting time, the cost of damage to infrastructure is PHP33.8 million in Ilocos Region alone," he added.
Alejandro also said concerned agencies and regional offices are still gathering reports on the damage to agriculture and other assets.
"Now for the actions taken, the NDRRMC conducted its emergency meeting with the affected regions via VTC (video teleconferencing) since yesterday. The virtual EOC (Emergency Operation Center) was activated and red alert was raised at NDRRMC OC (Operations Center), the NDRRMC directive signed by the chairperson was issued for Luzon Region on the reiteration of response action," he added.
Alejandro said the NDRRMC has directed its response cluster to monitor the situation and provide assistance as needed and account all actions taken.
Alejandro also said the response is managed at local and regional levels with support from outside regions local government units and other national government agencies.
"The NDRRMC is continuously monitoring and on standby for specific needs that may arise," he added. (PNA)