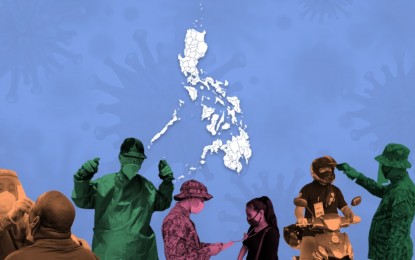 MANILA – The National Capital Region (NCR) is currently under moderate risk classification for Covid-19, a health official said Thursday.
In an online media forum, Health officer-in-charge Undersecretary for Public Health Services Team Beverly Ho said the NCR has the highest daily moving average with almost 1,100 cases per day in the recent week.
"It is followed by the rest of Luzon with 700 cases per day. The NCR Plus areas, Visayas, and Mindanao, show continued slow increases," she said.
On Wednesday, OCTA Research Group fellow Dr. Guido David also noted that the region is under moderate risk classification for Covid-19 because its average daily attack rate is already eight cases per 100,000.
The NCR's healthcare utilization rate (HCUR) is at 35.6 percent and its intensive care unit utilization rate is at 28 percent as of July 25, he said.
Muntinlupa's HCUR is 64.6 percent while Pasig's is 56.4 percent as of July 25, he added.
"Nationally, we remain at low risk classification with a daily average attack rate of 2.43 cases per 100,000 population, with national and all regions, all showing increases in cases in the recent one to two weeks," Ho said. "There are seven regions which have logged an average daily attack rate ranging from 1.45 to 3.96 cases per 100,000 population".
The country logged 21,331 new cases of Covid-19 with a continuous increase in cases of 3,047 infections per day -- 32 percent higher compared to last week's tally.
The nation's positivity rate went up from 12.5 percent last week to 14.8 percent in the recent week.
"While we see increase in cases, the severe and critical cases admitted in hospitals remain less than 1,000 since mid-March 2022. Inuulit po namin, 'yung pagtaas ng kaso hindi sinasabayan ng admissions natin (We emphasize that the increase in cases does not translate to increase in admissions)," Ho said.
As of July 26, some 734 cases or 8.32 percent of the total hospital admissions are considered severe and critical.
Moreover, about 16.49 percent are asymptomatic and 40.97 percent are mild cases. (PNA)