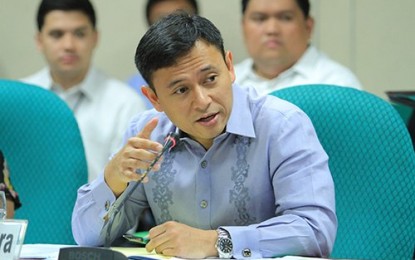 MANILA – Senator Sonny Angara on Thursday refuted assumptions that the Marcos administration's plan to "rightsize" the government will also "downsize" it.
Angara explained that "rightsizing" could mean "downsizing" or merging some agencies that seem to be redundant or duplicative of each other in terms of functions.
"That's the thing. Most people confuse those things. Downsizing is really shrinking your government. But rightsizing is putting your government resources where it really matters, or where it is most urgent," he said in an interview with ANC.
Angara cited an example wherein President Ferdinand Marcos Jr. mentioned in his State of the Nation Address that he plans to create a virology institute under the Department of Health.
"That's something that we have to face after (the coronavirus disease 2019)," Angara pointed out.
"Most experts say, you don't know when a new virus will return and that the virology institute, which we funded in the 2022 budget already, despite there not being a law. That will help us because you have the genome center but it takes a long time because you have samples from, let's say a passenger in Cagayan de Oro, etc., you have to send it pa to Manila."
He disclosed that whenever a new department is being debated in the Senate, legislators would always suggest doing the "rightsizing" of the government first.
"These are two sides of the same coin. If you want to rightsize, but before you create some agencies, they must proceed together, so there's some kind of rationality in your approach," Angara said.
The country was on track to achieve its goals even during the previous administration, except that the Covid-19 came, he said.
"I guess, the biggest challenge is how to put us back on that track. That's why I am happy that he (Marcos) mentioned agriculture, tourism because these are all components of our country's (gross domestic product). And if you look, what has been driving our GDP is services and government spending. And IT-BPOs (information technology - business process outsourcing)," Angara explained.
He also noted that agriculture and tourism could give jobs and put food on the table.
"When you say what needs to be done, these are little things that together, will put us back on the path of prosperity," he said.
Angara retained his post in the Senate this 19th Congress after being re-elected as the chairperson of the Senate Committee on Finance. (PNA)