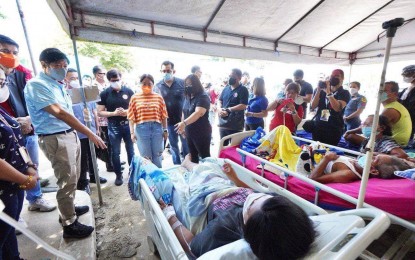 MANILA – Local telecommunications companies (telco) continue to send aid to areas heavily affected by the magnitude 7 quake that hit Abra and nearby areas on Wednesday.
In an advisory on Thursday, PLDT and its wireless subsidiary Smart Communications, Inc. (PLDT-Smart) have activated three more "libreng tawag (free calls)" and "libreng WiFi" sites in Northern Luzon.
In Ilocos Sur, these sites can be found at the Landmark Building in Poblacion, Vigan City; Vigan Northern Alliance Trading at the UNP Town Center in Vigan City; and Candon City PD Office.
There are also sites located at the Abra PD Office in Bangued, Abra and at the Benguet Agri Pinoy Trading Center in La Trinidad, Benguet.
"Aside from providing communications as an aid to affected residents, PLDT and Smart continue to work with local government units as they prepare to distribute relief assistance to severely impacted communities," PLDT-Smart said.
Globe Telecom (Globe) activated a platform that would allow its customers to send help to quake-hit families through its Rewards program.
In a separate advisory, it said Globe customers may convert their data into reward points beginning Friday, which in turn may be used to donate to charities and foundations through the GlobeOne mobile application.
"Mobile prepaid and postpaid customers and home prepaid WiFi customers can simply go to the Rewards section of the new GlobeOne app and tap 'convert data,'" it said.
For prepaid users, it said 1GB of data is equivalent to 1 point while the same amount of data is worth 5 points for postpaid customers.
"Customer donations will be sent to support relief efforts of partner organizations such as the Ayala Foundation, the GMA Kapuso Foundation, Rise Against Hunger Philippines, and the ABS-CBN Foundation," it said.
Those who wish to give more may also send money through Globe's digital payment platform GCash.
"Donations collected through these channels will be equally distributed to partner NGOs [non-government organizations] involved in relief efforts in quake-hit areas, particularly epicenter Abra and adjacent provinces," it said.
To help those in immediate need of medical help or comfort, the Globe Group's telehealth service KonsultaMD is offering residents in quake-hit areas free consultations with general physicians for one month.
"Using the code LIBRENGKONSULTA, quake survivors may avail of unlimited voice KonsultaMD consultations between July 27 and August 31, with one free video consultation within the same period. KonsultaMD will send patients the necessary prescriptions, laboratory requests, and medical certificates electronically," it said.
Those in need of psychosocial support may also avail of unlimited mental health consultations for free via the KonsultaMD app using the voucher code 'HEREFORU' within the same period.
In addition, Globe earlier deployed a free call, free charging, and free WiFi station in Bangued, Abra.
On Wednesday, Department of Information and Communications Technology (DICT) Secretary Ivan John Uy ordered a disaster deployment readiness team to standby in Northern Luzon and identify areas with damaged infrastructure.
In areas where communications infrastructures were damaged, he said the DICT may deploy communications trucks complete with a satellite-powered network hub and a generator set for mobile deployment.
The magnitude 7 tectonic quake struck three kilometers northeast of the municipality of Tayum in Abra at around 8:43 a.m. Wednesday. (PNA)