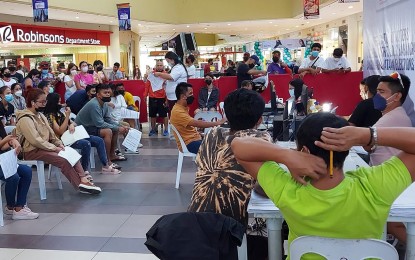 DUMAGUETE CITY – The number of registered voters in Negros Oriental is expected to reach close to 1 million following the recent three-week voter registration for the barangay and Sangguniang Kabataan elections this December.
Lawyer Eddie Aba, provincial election supervisor of the Commission on Elections (Comelec) in Negros Oriental, said on Thursday that once the new applications are approved by the Election Registration Board (ERB) of the poll body, the registered voters will reach a total of 993,790.
Records at his office show that from July 4-23, a total of 61,751 applicants had been listed up for the barangay and SK polls.
The province's total registered voters during the May 9 national elections was 932,039.
Aba said the ERB will start hearing the applications on Aug. 1 and onwards, and he believes all of the new applicants here will be approved.
Meanwhile, he said he is surprised by the huge turnout of young people registering for this electoral exercise.
"I have not seen this many youth voters compared to the past years," he said in mixed English and Cebuano.
"I believe that they are more aware this time because of social media and their outlook to participate in the affairs of the government has also changed," he added.
Almost half of the new registrants in Negros Oriental for the barangay and Sangguniang Kabataan elections in December are from the youth sector.
These registrants, aged 15-17, who were among the total 61,751 applicants, totaled 29,555 young people, comprising 14,035 males and 15,520 females.
Aba also noted that barangay and SK elections usually have a greater turnout of voters because of family members and relatives running for various posts.
The Comelec official is expecting a higher turnout of about 85 percent in the December polls compared to about 82 percent only in the presidential, national and local elections. (PNA)