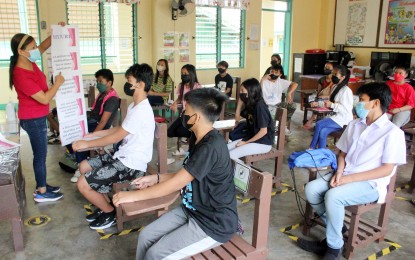 LEGAZPI CITY – The Department of Education (DepEd) 5 (Bicol) is expecting about 1.8 million learners for School Year (SY) 2022-2023.
In an interview on Thursday, DepEd-5 spokesperson Mayflor Marie Jumamil said almost 400,000 children have been registered since the list-up began on Monday.
"This is an indication of the eagerness of the parents and learners to go back to face-to-face (F2F)," Jumamil said.
DepEd-5 data showed that 366,114 learners have pre-registered, composed of 23,475 for Kindergarten; 690 for non-graded covering the learners with special needs; 163,352 for elementary; 125,620 for junior high school; and 52,977 for senior high school.
Jumamil said vaccination is not a requirement for enrollment but parents are encouraged to have their kids inoculated against the coronavirus disease 2019 (Covid-19).
"Parents have three choices to enroll their children – onsite, remote, or in drop-box form," she noted.
For remote enlistment, parents can access the enrollment form or the Enhanced Basic Education Enrollment Form (EBEEF) digitally and email them to the school while the dropbox is available at barangay halls or strategic locations near the school, where the EBEEFs are also available.
"Those opting for in-person enrollment should observe the safety health protocols, such as wearing of face mask, non-contact temperature check, frequent hand washing or use of alcohol, and physical distancing," Jumamil said.
DepEd-5 is expecting an increased number of enrollees this coming school year, considering that the movement restrictions had been relaxed and the five-day face-to-face classes will start on November 2.
"Transition period will be until October or before the start of the five days per week," Jumamil said.
Parents or guardians have been advised to bring the enrollees' birth, baptismal, or barangay certificates showing their date of birth, the correct spelling of their names, and those of their parents.
The enrollment runs until August 22. (PNA)