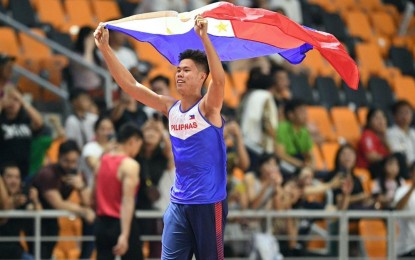 MANILA – EJ Obiena soared to his highest world ranking yet after delivering the Philippines its first medal in the World Athletic Championships.
Obiena announced on Thursday night that he is now ranked third in the world in men's pole vault after capturing the bronze in the said meet that took place in Eugene, Oregon.
The 26-year-old has a total of 1,408 points as of Tuesday.
American Chris Nilsen, who barely beat Obiena for the silver through the countback tiebreaker, is No. 2, but he is not that far above Obiena with 1,435 points.
Sweden's Mondo Duplantis remains world No. 1 with 1,612 points.
"The success in the recent World Championships is not all mine. I owe a debt of gratitude to many, including my parents, my coach and support team, and amazing supporters in our government such as POC (Philippine Olympic Committee) President Bambol Tolentino, new PATAFA (Philippine Athletics Track and Field Association) President Terry Capistrano, and Senator Pia Cayetano," Obiena expressed his gratitude especially to said personalities.
He also thanked the people who competed for the Philippines in athletics before him "who paved a way for me."
"I owe them a debt of gratitude," Obiena added.
'Diay' gets my incentive
However, he quickly changed mood upon discussing one Philippine athletics legend, Lydia De Vega-Mercado, who is currently in a critical condition amid her battle with Stage 4 breast cancer.
"I am deeply saddened by the news of Mam Lydia's health issues, and the pleas of her family for financial assistance for the mounting medical bills. I have met Mam Lydia in Singapore on many occasions, and she has always been kind, supportive and loving individual," Obiena said of Mercado, the first Philippine representative to the World Athletics Championships right during its inaugural staging in 1983.
He then announced that the PHP250,000 incentive that he will get from the Philippine Sports Commission for breaking his own Asian record in pole vault with a 5.94-meter leap will be donated in full to Mercado.
"On the flight back to Italy, it occurred to me that despite my own training needs, Mam Lydia needs this money more than I do," Obiena explained the decision.
He then announced that his adviser, James Lafferty, and his wife, nutritionist Carol, will also pledge PHP250,000 to the Mercados for her recovery.
"In total, Team Obiena will pledge PHP500,000 to Mam Lydia and her family. We hope this makes a difference and gives Mam Lydia added strength to battle this horrible disease," Obiena concluded. (PNA)