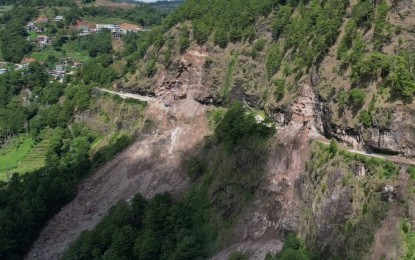 MANILA – Five roads remain impassable in the aftermath of Wednesday's magnitude 7 earthquake that jolted northern Luzon.
The Department of Public Works and Highways (DPWH) reported on Friday that these roads are in the Cordillera Administrative Region (CAR) and Ilocos Region.
Clearing operations are ongoing at the Lubuagan-Batong Buhay Road K0463+700, K0464+000 sections in Puapo, Dangtalan, Pasil and K0464+600, K0464+700, K0464+800 sections in Colong, Lower Uma, Lubuagan, in Kalinga Province (due to landslide and rock collapse); Baguio - Bontoc Road K0347+090 - K0347+180, and K0347+280 - K0347+340 Mt. Data Cliff, Bauko, Mt. Province (due to soil collapse);
In the Ilocos Region, also impassable are the Tagudin - Cervantes Road K0350+950, and K0353+100 section in Ilocos Sur (due to landslide and rockslide); Jct. Santiago-Banayoyo-Lidlidda-San Emilio-Quirino Road K0393+000 Brgy. Cayos, Quirino, Ilocos Sur (due to landslide and rockslide) and the Cervantes-Aluling-Bontoc Road K0387+(-950), Brgy. Aluling, Cervantes, Ilocos Sur (due to landslide and rockslide).
The DPWH is looking to reopen the affected roads in CAR by 5 p.m. on Saturday.
As of 6 a.m. Friday, the partial cost of damage to roads and bridges caused by the earthquake was recorded at PHP396.58 million.
Secretary Manuel Bonoan said the amount included PHP104.53 million on national roads and PHP292.05 million on national bridges.
Aside from roads and bridges, the earthquake also damaged buildings, churches and heritage sites. (PNA)