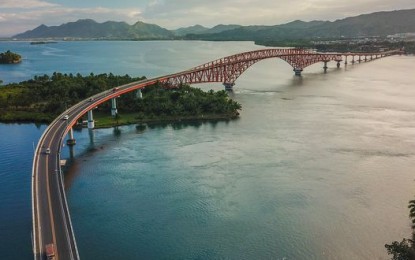 TACLOBAN CITY – The national government set aside some PHP87.4 million to carry out another phase of a major rehabilitation of the 50-year-old San Juanico Bridge, the Department of Public Works and Highways (DPWH) regional office here said on Friday.
This will be the second year the government will undertake a major repair of the bridge that forms part of the nautical highway that connects Leyte and Samar Islands, DPWH Eastern Visayas Regional Director Allan Borromeo said.
This year's allocation will fund the structural steel and painting of the 508.38 square meters portion of the bridge and the tightening of over 35 tons of high-tension bolts.
"This repair is badly needed since there were no rehabilitation activities done for the bridge since it was built 50 years ago. The traffic volume that has been increasing every year contributed to the ageing of the bridge," Borromeo said.
The project, which started last March, will be completed before the end of 2022.
This is the second phase of the very first bridge strengthening project.
The first one was last year through a PHP96.25 million budget for structural steel painting, tightening and replacement of bolts, and general scaffolding.
From July 18 to 22, engineers from DPWH Bureau of Design and Bureau of Research and Standard inspected the San Juanico Bridge by testing in detail its condition. The DPWH has yet to release the findings.
The San Juanico Bridge, spanning 2.162 kilometers, was built as part of the Pan-Philippine Highway now called the Maharlika Highway, a network of roads, bridges, and sea routes that connect the islands of Luzon, Samar, Leyte, and Mindanao. (PNA)