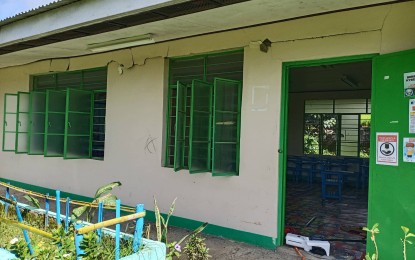 BAGUIO CITY – Following a magnitude 7 earthquake on July 27, the Department of Education (DepEd) has recorded damage in different schools across the region, mostly in the province of Abra, where the epicenter of the temblor was traced.
Based on a report from the DepEd-Cordillera Administrative Region (CAR), 254 classrooms were totally damaged, with 218 of them in Abra, as of 10:03 p.m. on July 28.

A total of 483 classrooms suffered major damage, 403 of which were in Abra. Meanwhile, 833 classrooms in the region had minor damage.

This brings to 1,570 the total number of classrooms damaged with varying degrees by the quake in the region.

"Progressing ang data kasi ongoing pa ang assessments na ginagawa sa schools (the data is progressing because the assessments at the schools are still ongoing)," Cyrille Gaye Miranda of the DepEd-CAR public affairs office said in a private message on Facebook.

Authorities have yet to determine the damage cost.

Miranda also said the figures came from the Rapid Assessment of Damages Reports submitted by the different Schools Division Offices in the six provinces and two cities in the Cordillera.

With Abra as the epicenter and the hardest hit province, it also logged the most damage in terms of infrastructure.

Records also showed that as of the evening of July 28, there are 197 schools in Abra that have submitted an initial damage report.

The Schools Division Office in Apayao also reported damage in nine schools; Baguio City, 16 schools; Benguet, 50 schools; Kalinga, 13 schools; Mountain Province, 29 schools; and Tabuk City Kalinga, nine schools.
Meanwhile, the DepEd Ilocos regional office (DepEd-1) has recorded a total of 191 classrooms damaged by the earthquake as of Friday.
In a phone interview, DepEd Ilocos Region Public Affairs Unit head Cesar Bucsit said 26 classrooms were totally damaged, 17 sustained major damage, and 148 with minor damage.
He said the totally damaged classrooms are in Ilocos Norte with four, 18 in Pangasinan, and four in Dagupan City, Pangasinan.
Classrooms with major damage are in Ilocos Norte with one, two in Ilocos Sur, five in Pangasinan, and nine in Dagupan City, he added.
Bucsit said classrooms with minor damage were recorded in Ilocos Norte with 26, nine in Ilocos Sur, 62 in Pangasinan, and 48 in Dagupan City.
"Most likely, there will be an addition to these numbers as the engineering department is still conducting an assessment," he said.
Bucsit said they are still assessing as well the cost of damage to these classrooms.
"Majority of the classrooms in the region is not affected by the earthquake but they are still monitoring and checking in accordance to structural stability," he said.
Ilocos Region has almost 3,000 schools.
He said the damaged classrooms, toilets, hand washing facilities, and furniture will be allocated with funds for repair or reconstruction following the ongoing assessment of the DepEd-1.
"We are still looking into it if this will have an effect on the opening of classes. We are conducting a meeting today, headed by our regional director Dr. Tolentino Aquino, and in the coming days to discuss the matter," he said. (PNA)