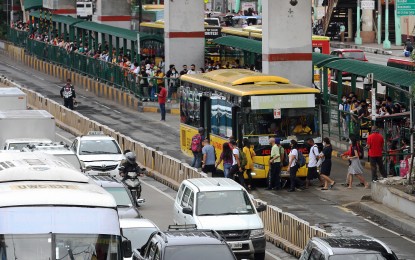 MANILA – Bus operators have appealed to the Land Transportation Franchising and Regulatory Board (LTFRB) to increase the minimum fare for regular and airconditioned public utility buses (PUB) and for succeeding kilometers (km) due to rising fuel prices.
In an en banc meeting at the LTFRB office in Quezon City, PUB operators submitted Thursday a joint petition to raise the minimum fare for airconditioned PUBs from PHP13 to PHP20 for the first five kilometers plus PHP3.40 for every succeeding km.
For regular PUBs, they are seeking a minimum fare increase from PHP11 to PHP15 and an additional PHP2.70 per km after the first five kilometers.
For provincial PUBs, the petition requested a minimum fare of PHP15 for ordinary PUBs for the first five kilometers with a PHP2 per km charge, regular air-conditioned PUBs to have a PHP2.50 per km charge, PHP2.60 per km for 'De Luxe' units, PHP2.70 per km for 'Super De Luxe' units, and PHP3.60 per km for 'Luxury' units.
The petition was submitted by the Southern Luzon Bus Operators Association, Nagkakaisang Samahan ng Nangangasiwa ng Panglalawigang Bus sa Pilipinas, and Samahang Transport Operators ng Pilipinas, Inc.
The groups said there are fewer buses operating nationwide due to the high price of fuel, with the current fare matrix enforced by the LTFRB when the price of diesel was around PHP44 per liter, compared to around PHP80 per liter on July 25.
They promised that the return to 100 percent operations of PUBs would accelerate once the LTFRB grants their petition.
In response, the LTFRB in a statement said they understand the needs of PUB operators amidst the current oil market and the coronavirus disease 2019 (Covid-19) pandemic.
"Aside from studying the implementation of a provisional fare increase for PUBs, the agency is looking into opening more routes to address the expected surge of passengers once face-to-face classes resume," the LTFRB said in Filipino.
Meanwhile, the LTFRB will seek the input of the National Economic Development Authority (NEDA) and the Department of Energy (DOE) on the petition, with its next hearing scheduled on August 11. (PNA)