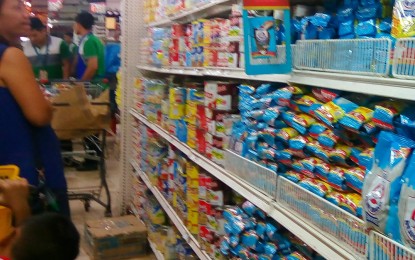 MANILA – Food and groceries delivery is expected to grow further even if movement restrictions have been eased as disposable income and urbanization in the Philippines are projected to sustain their expansion.
In a report dated July 28, Fitch Solutions Country Risk and Industry Research said delivery services, particularly for basic necessities, grew exponentially during the pandemic after government lockdowns to address the spread of the coronavirus disease 2019 (Covid-19).
This made retailers adopt delivery options among their offerings to remain competitive, it said.
"We believe that these dynamics have been key to the development of the sector in Asia, without which, would have taken far longer to develop," it added.
The report said food and grocery delivery service providers continue to enhance their services and transport network –a major factor that prevented the strong expansion of electronic commerce (e-commerce) pre-pandemic.
"Post-Covid, industry players have continued to refine their offerings, while the number of first-time users will continue to use the service, as they acknowledge its convenience and delivery service will become more efficient and user-friendly," it said.
The report said the rise of disposable household income in the country is a plus to the growth of food and groceries delivery.
It forecasts average household disposable income to grow by 9.3 percent year-on-year to around PHP413,900 this year and at an average of about 8.4 percent annually from 2022-2026 to around PHP567,900.
While inflation continues to rise and is forecast to average at about 5.6 percent this year, it added, the growth of disposable income is expected to outpace this.
"This means consumers in the Philippines will see their disposable incomes increasing in real terms. We believe that real growth in income levels of Filipino consumers compliments the retail formalization trend in the Philippines, as consumers gain more access to modern MGR (mass grocery retail) as their propensity to spend rises," it said.
Also, urbanization is expected to further increase the market for delivery services and e-commerce.
The report forecasts that around 50.9 percent of Filipinos would be living in urban areas by 2030, higher compared to the around 48 percent this year.
It said urban areas have the factors that will boost food and grocery services –large number of households with higher disposable income, developed logistics, and people with technical skills and hardware to access e-commerce platforms.

The report cited Filipinos' rising preference for healthier food options, especially those from the middle to high income segments.
"These households are likely to be more conscious of the health benefits of their food choices and have greater bandwidth when considering their dietary choices as they trade up price points for premium and healthier food options," it said.
Citing latest available data, the report said fresh and preserved fruits and dairy, which are forecast to grow by 8.6 percent and 8.3 percent in the medium term, respectively, are the two fastest growing categories under the food index.
It said importation value of fresh fruits and nuts has risen to around USD736.9 million in 2021 from around USD27.3 million in 2002.
"These two categories underpin our view that Filipino consumers are increasingly spending more on healthier foods," it added. (PNA)