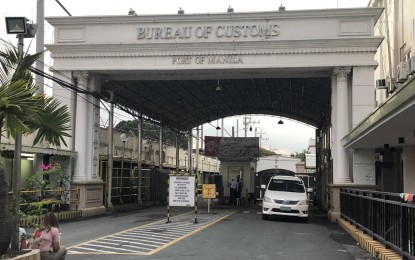 MANILA – The Bureau of Customs (BOC) seized an estimated PHP18 million worth of smuggled red and white onions at the Port of Cagayan de Oro (CDO) from China.
In a statement on Friday, Customs Commissioner Yogi Filemon Ruiz said the shipments were seized on Thursday and were initially declared as containing soft tortilla wraps and consigned to Primex Export and Import Producer.
He added that the swift implementation of the operation stopped the entry of the smuggled agricultural goods into the country.
"We have a legacy to continue here, one that was started by the previous administration. We know that we have been a target of agricultural smuggling for years, and I personally believe it is high-time we put more resources into these efforts," the BOC chief said.
The shipments underwent examination at the Mindanao International Container Terminal Services Inc. (MICTSI) yard and was witnessed by the Customs district collector, sub-port collector, agents of the Bureau of Plant Industry (BPI), Enforcement and Security Service (ESS), Customs Intelligence and Investigation Service (CIIS), Philippine Drug Enforcement Agency (PDEA), Chamber of Customs Brokers, Inc. (CCBI), and MICTSI.
CIIS director Jeoffrey Tacio said their CDO field station received "derogatory information" through a field information report (FIRE) from the Intelligence Division about the shipment of possible misdeclared agricultural products.
"In such instances, the standing order is for us to act immediately by filing the necessary documents and receiving the go-signal. It is imperative that we act swiftly on smuggling cases to prevent these incidents from repeatedly happening in our own ports," he said.
Upon receiving the derogatory information, the field station chief at the CDO port requested for the issuance of a pre-lodgement control order (PLCO) against the shipments from the office of CDO District Collector Elvira Cruz.
A warrant of seizure and detention (WSD) was recommended against the shipment, while Primex Export and Import Producer will face legal charges in relation to the possible violation of Section 1400 (misdeclaration of goods) and Section 117 (regulated importation) of Republic Act 10863, or the Customs Modernization and Tariff Act (CMTA). (PNA)