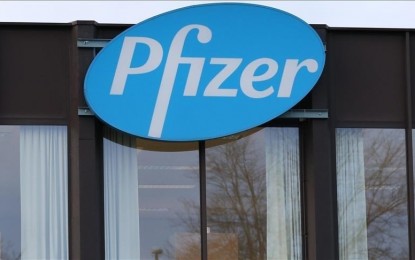 ANKARA – Pfizer posted record revenue in the second quarter of 2022 with sales of Covid-19 antiviral treatment Paxlovid and vaccines, according to its financial results statement released on Thursday.
The US-based pharmaceutical company earned USD8.8 billion from its Covid-19 vaccines and USD8.1 billion from its oral medication Paxlovid.
This carried the company's total revenue to USD27.7 billion in the second quarter, which is up 46.5 percent from USD18.9 billion in the same period of last year.
Net income jumped approximately 80 percent to USD9.9 billion, from USD5.5 billion, during that period.
Chairman and CEO Albert Bourla said the company launched an initiative to bring its patented medicines and vaccines to 1.2 billion people living in 45 lower-income countries around the world at not-for-profit prices.
The company reaffirmed its 2022 total revenue expectations for its Covid-19 vaccine sales at USD32 billion and USD22 billion for Paxlovid.
Pfizer and its German partner BioNTech announced on June 29 to provide the US government with 105 million doses of vaccine for USD3.2 billion.
While the US government also has the option to purchase up to 195 million additional doses, the deal may include an adult omicron-adapted Covid-19 vaccine that is subject to authorization from the Food and Drug Administration. (Anadolu)