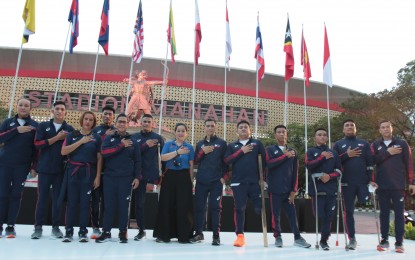 SURAKARTA, Indonesia – Filipino paralympic athletes will showcase their skills as the 11th ASEAN Para Games opens Saturday at the sprawling 20,000-seat Manahan Stadium here.
Led by powerlifter Achelle "Jinky" Guion, the flag-bearer, a group of 30 athletes, coaches, and officials will attend the ethnic-inspired program in the hometown of Indonesian President Joko Widodo.
Chef de mission Walter Torres announced Friday that the Philippines will vie in 10 sports in the weeklong meet among the 11 Southeast Asian nations.
"For health and safety reasons, we decided not to include representatives from swimming because their competition venue is in the city of Semarang, which is about two hours from Surakarta," Torres said in a news release.
Aside from Torres and deputies Irene Remo and Tricia Rana, those attending the inaugural rites are athletics: Randy Magcawas, Arvie John Arreglado, King James Reyes, and Maekel Lita; archery: William Cablog and Dina Managdang; badminton: Julie Peral Guadayo and Johnlo Respicio; chess: Cheyzer Mendoza, Cheryl Angot, Evangeline Gamao, Felix Aguilera and Patrisha Anne Salgado; boccia: David Gonzaga and Ruel Fernando; judo: Rezil Rosalejos and Mary Ann Taguinod; table tennis: Gerald Tuazon and Homber Tiongson; goalball: Jorge Lucero, Marco Lucero, Fred Estacion; powerlifting: Guion, Nikki Vidal, Rico Canlas; and sitting volleyball: Mayie Procina and Orwen Elumir.
Philippine Paralympic Committee president Mike Barredo, who arrived in Surakarta Wednesday, urged the athletes to compete "with a positive mindset and winning attitude."
"If you feel nervous that's okay because even the best athletes have jitters. Use it to pump up the adrenaline and I pray that our veterans and newcomers feed off each other's energy and inspire one another. After all, we are one family. Let's all go for the gold!" he said in a statement. (PR)