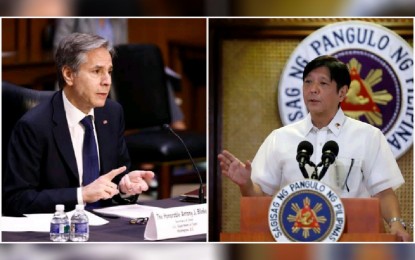 MANILA – US Secretary of State Antony Blinken is scheduled to meet with President Ferdinand Marcos Jr. and the latter's foreign affairs chief during his visit to Manila from August 5 to 6.
The US Embassy in Manila said Friday Blinken's meeting with Marcos and Foreign Affairs Secretary Enrique Manalo would cover "bilateral efforts" to strengthen the two nations' alliance.
In his meeting with Manalo, discussions would focus on sustaining the "positive trajectory of relations" between the two nations and broadening cooperation in the economic sphere, particularly on pandemic recovery and addressing the climate crisis, the Department of Foreign Affairs (DFA) said.
Blinken and the Filipino executives are also set to discuss other regional and global challenges, as well as ways to "advance shared democratic values."
This will be Blinken's first trip to the country since assuming office in January 2021. It follows the official visit of Deputy Secretary of State Wendy Sherman, the State Department's second-highest official, in June.
'Asean'
Blinken would be traveling to the Philippines after attending the US-Asean Ministerial Meeting, the East Asia Summit Foreign Ministers' Meeting, and the Asean Regional Forum (ARF)) in Cambodia from August 3 to 5.
Asean is the Association of Southeast Asian Nations.
At each ministerial meeting, the State Department said Blinken would "emphasize the US' commitment to Asean centrality and successful implementation of the Asean Outlook on the Indo-Pacific."
He would also address the coronavirus disease 2019 (Covid-19) pandemic, economic cooperation, the fight against climate change, the crisis in Myanmar, and Russia's war in Ukraine. 
The DFA shared that the situation in Myanmar, Ukraine, and the South China Sea are among the topics the Asean and its partners are expected to focus on during the Cambodia meetings.
In a recent presser, Foreign Affairs Assistant Secretary Daniel Espiritu also noted that Russia would not be excluded in Asean meetings, describing the bloc as a distinct grouping that "provides a forum for preventive diplomacy, for peaceful management of disputes and tensions even among conflicting parties."
"We want this distinction to be respected and for Asean centrality to be respected. So we said no one will be excluded. No process will be disrupted," Espiritu said.
He did not name any country but said there have been "moves among the external partners of Asean" to exclude Moscow from its many meetings, workshops, and fora, including the ARF. (PNA)