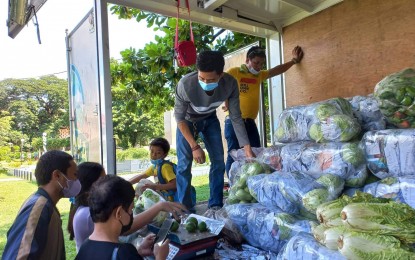 BAGUIO CITY – The Department of Agriculture (DA) - Cordillera will send an additional 2.5 tons of fresh highland vegetables to Abra in the next few days to serve other municipalities in the quake-hit province.
The Agriculture Marketing Assistance Division (AMAD) has decided to travel back to Abra with the "Kadiwa on Wheels", Aida Pagtan, chief of the Regional Agriculture and Fisheries Information Service (RAFIS), said Friday.
The Kadiwa on Wheels is a joint undertaking of the DA-Cordillera and the Agricultural Programs Coordinating Office of Abra, with the assistance of the municipal agriculture offices.
Pagtan said another batch of vegetables would arrive on Saturday and hopefully, also in the succeeding days until all 27 towns of Abra have been served by the government initiative to bring low-priced agricultural products to different towns and regions of the country, most especially in the calamity-stricken towns of Abra.
Friday's trip served the towns of Tayum, Lagangilang, San Isidro, Pilar, Luba, and Villaviciosa.
"The supplies were not enough to cater to all,"
Pagtan said in Ilocano.
Two trucks were rolled out by the regional office that brought assorted highland vegetables from the Benguet AgpiPinoy Trading Center in La Trinidad, Benguet to Abra that were sold at wholesale prices, the same as the prices at the trading facility.
Pagtan said on August 1, DA 1's (Ilocos) Kadiwa on Wheels would also go to Abra to bring cheap assorted seafood.
She said the clamor for cheap products in Abra is high.
"They were even asking if we will have a permanent Kadiwa store where they can return to buy cheap products," she said.
The 2,666 kg. of assorted vegetables, especially potato, bell pepper, Chinese cabbage, cabbage, sayote, cucumber, and lemon, were sold out on Friday.
President Ferdinand Marcos Jr., during his first State of the Nation Address, said he would continue with the Kadiwa program, which has been proven to be effective and helpful to the public.
The concept of the Kadiwa was popularized during the time of the President's father, the late president Ferdinand Marcos Sr., and was revived during the term of President Rodrigo Duterte.
Pagtan also said as personnel of the AMAD visited the affected towns, they also took note of the people's needs and the possible assistance that can still be extended to the victims of the magnitude 7 earthquake on July 27. (PNA)