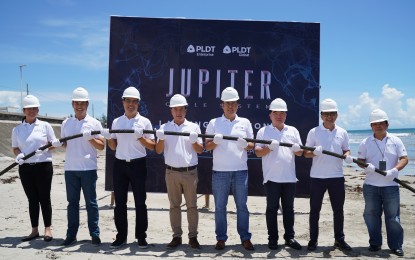 MANILA – The newest international cable system in the Philippines went officially online after PLDT launched the system on Friday.
In a statement, PLDT said the Jupiter Cable system has been "fired up" and is seen to "immensely boost" the country's international data capacity and advance digital infrastructure.
"The 14,000-km. Jupiter Cable system is the newest international gateway connecting the Philippines directly from PLDT's cable landing station in Daet, Camarines Norte to Japan and the US West Coast," it said.
The cable system, it said, would triple PLDT's international capacity to 60 Terabits per second and is seen to be especially useful since a bulk of Internet content and services accessed by Filipinos are from servers in the US and Japan.
"The capacity offered by Jupiter is expected to help promote the Philippines to global hyper scalers and position the country as the new digital hub in the Asia-Pacific," the statement added.
"Hyper scalers" are usually cloud service providers that use hyper-scale computing, an agile method of processing data that can quickly go up and down depending on data traffic.
This computing method can be used in data centers and the cloud to accommodate fluctuating demand.
By increasing the country's international data capacity, it said the Jupiter cable would enhance the country's image as an investment destination.
The cable system was launched in a celebration at the Marriott Hotel in Pasay City, led by PLDT chairman Manuel Pangilinan. Among the guests were Information and Communications Technology Secretary Ivan John Uy, Trade and Industry Secretary Alfredo Pascual, Japan Ambassador Koshikawa Kazuhiko, and US Ambassador MaryKay Loss Carlson.
To date, PLDT has access to 15 international submarine cable networks and wants to expand further with two more – the Asia Direct Cable and the APRICOT cable system, both expected to be completed in the next two years. (PNA)