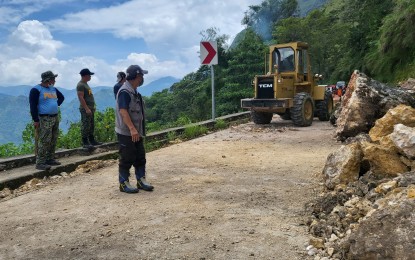 MANILA – The National Disaster Risk Reduction and Management Council (NDRRMC) reported on Saturday that the number of families affected by the magnitude 7 earthquake that rocked Abra and nearby provinces in northern Luzon on July 27 has climbed to 62,024.
The data is equivalent to 228,238 persons living in 639 villages in the regions of Ilocos, Cagayan Valley, and Cordillera.
The NDRRMC said 46 evacuation centers are sheltering 1,910 families or 6,490 individuals, while the rest are being aided by families and friends.
The agency has confirmed four deaths in Cordillera and 300 injured – two in Cagayan Valley and 298 in Cordillera.
Still undergoing validation are reports of two deaths in Ilocos and Cagayan Valley and the identities of four bodies retrieved in Abra and 20 injured.
Abra province was the hardest hit by the earthquake that happened at 8:43 a.m.
The epicenter was recorded in the town of Tayum.
Intensity V (strong) was felt in Manila and IV (moderately strong) in Makati, Mandaluyong, Marikina, Quezon City, Pasay, and Pasig.
Million-peso damage
Damaged houses were placed at 12,802 in Ilocos, Cagayan Valley, Cordillera, and the National Capital Region.
Of the total, 12,645 were classified as "partially damaged" and 157 as "totally damaged".
The Department of Public Works and Highways (DPWH) reported the partial cost of damage to roads, bridges, and flood-control structures at PHP596.7 million as of Saturday.
DPWH - Cordillera recorded initial damage to infrastructure at PHP491,170,138.76.
The report, released Friday night, showed that Abra sustained the most damage, estimated at PHP436.1 million.
The damage were mostly on roads, particularly at the Abra-Ilocos Norte Road; Abra-Cervantes Road; Abra-Kalinga Road; and Abra-Ilocos Sur Road, placed at PHP246,130,000.
Damage to flood control infrastructures is at PHP190 million while the National Irrigation Authority reported PHP4.5 million worth of damage in Cordillera.
Aside from Abra, the 1st District Engineering Office (DEO) in Ifugao recorded an initial PHP20 million damage, and Benguet's 1st DEO, PHP18,807,138.76.
The Upper Kalinga DEO logged PHP16 million in initial damage; Mountain Province DEO, PHP133,000; and Baguio City, PHP100,000.
The DPWH likewise classified as "restricted" 17 structures in Region 1 and CAR based on the assessment of 1,350 establishments.
The inspected structures included 621 national bridges, 23 government hospitals, 275 public school buildings, 417 other public buildings, and 18 other structures.
A separate report will be submitted to the DPWH through the National Building Code Development Office after more inspections on both public and private structures by building officials and city/municipal engineers.
Road-clearing
During the situational briefing in Abra on Thursday, led by President Ferdinand Marcos Jr., DPWH-Cordillera Director Khadaffi Tanggol said their first action was to clear the roads that were blocked by landslides.
DPWH Quick Response Teams were working on clearing and reopening three national roads that remained closed to traffic as of 8 a.m. Saturday. Baguio - Bontoc Road K0347+090 - K0347+180 section Mt. Data Cliff, Bauko, Mt. Province due to soil collapse; Mt. Province Boundary - Calanan - Pinukpuk - Abbut Road, K0428+000, Basao, Tinglayan, Kalinga due to soil collapse; and Tagudin - Cervantes Road K0353+100, K0353+500 sections in Ilocos Sur due to landslide and rockslide.
Tanggol also said they have started checking on the structural integrity of government facilities, starting with hospitals.
"Tuloy-tuloy pa rin tayong nag a-assess ng damage at syempre ang safety ng structures, lalo na sa Abra, dahil may mga aftershock pa rin (We continue to assess the damage and of course, look at the safety of structures, especially in Abra, because there are still aftershocks)," he said in a previous interview. (PNA)