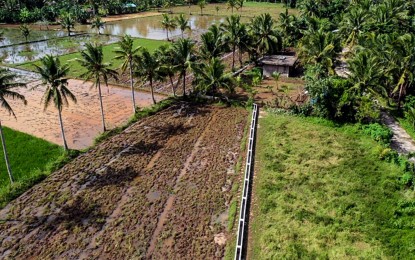 LEGAZPI CITY – At least 72,288 farmers in the Bicol region will benefit from President Ferdinand Marcos Jr.'s plan to provide debt relief to agrarian reform beneficiaries (ARBs) by condoning payments on loans and providing a one-year moratorium on the payment of amortization.
Gerard Buensalida, Department of Agrarian Reform (DAR) spokesperson, said on Saturday he expects more ARBs to avail of the loan condonation.
"Since our agency's program in land distributions is continuously being conducted, we are expecting also an increase in the number of ARBs who will avail of the loan condonation," Buensalida said in an interview.
Based on the data provided by the Land Bank of the Philippines, Camarines Sur has the biggest number of ARBs with loans at 32,026, followed by Albay (14,143), Sorsogon (10,971), Camarines Norte (9,230), Masbate (5,495), and Catanduanes (423).
Rodrigo Realubit, DAR 5 (Bicol) director, said in a statement on Friday that the plan is expected to boost farm productivity and the agricultural output of farmers.
"It's a much welcome strategic move by the President. It will provide much-needed relief to our ARBs, as they can invest the freed funds in capital production," Realubit said. "If the ultimate solution is provided by Congress in the form of a moratorium or eventually a condonation, as indicated by the President, and involving billions of pesos, these funds may be used to stimulate rural agricultural dynamics in remote areas."
During his inaugural State of the Nation Address on July 25, Marcos urged Congress to pass a law that would lift the burden off agrarian reform beneficiaries who have loan dues so they could concentrate on farm productivity.
He said such a measure would ensure the success of the administration's food security program.
"The condonation of the existing agrarian reform loan will cover the amount of PHP58.125 billion benefiting around 654,000 agrarian reform beneficiaries and involving a total of 1.18 million hectares of awarded lands," Marcos said.
He proposed an amendment to Section 26 of Republic Act (RA) 6657, or the Comprehensive Agrarian Reform Law of 1988, to unburden the farmers of their loans and interests.
Section 26 states that lands awarded based on the law shall be paid for by the beneficiaries to the LandBank in 30 annual amortizations at 6 percent interest per annum.
Moreover, Marcos said agrarian reform beneficiaries who have yet to receive their awarded land under the Comprehensive Agrarian Reform Program would receive it without obligation to pay any amortization.
Farmer-beneficiaries in Camarines Sur expressed hope that the President's promises would be properly implemented.
"Makakatabang ini samong mga paraoma. Alagad mahalat man giraray kita ning order na may IRR o implementing rules and regulations ta kun mayo pa kaan, baka mag-asa sana kami. Saro pa, sa mga teknolohiya dapat mas pakusugon lalo ini ta an panahon nagbabago. Iba na an ways kan pagtanom ngonian kesa kaidto. An mga kaakian pati ngonian uda nang interes sa pagtatanom. Gururang na kaming mga presenting paraoma. Mayong masurunod samo (This will benefit the farmers. But we will still wait for an order to implement the rules and regulations because we will continue to hope without it. In addition, we must improve technology since times are changing. Planting techniques have evolved throughout time. The youth of today lack any interest in farming. Farmers are already elderly, thus, no one will follow in our footsteps)," Torribio Biag, an ARB from Barangay Cagmanaba in Ocampo, Camarines Sur, told DAR-5 in a recent meeting. (PNA)