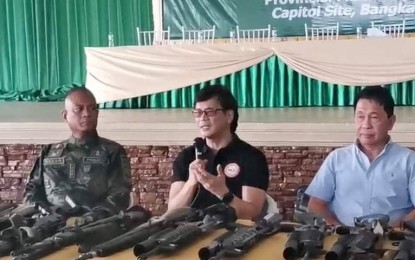 ZAMBOANGA CITY – Department of the Interior and Local Government (DILG) Secretary Benjamin Abalos Jr. on Saturday welcomed some 100 Abu Sayyaf Group (ASG) surrenderers in Sulu.
The surrender of the 100 ASG members was facilitated by the Philippine National Police-Special Action Force (PNP-SAF) headed by Maj. Gen. Patrick Villacorte.
Villacorte presented the 100 ASG surrenderers to Abalos in a ceremony at Sumadja Hall, Capitol Site, Patikul, Sulu.
Abalos was happy to note that the 100 ASG members decided to surrender to live peaceful lives noting the hardships they experienced in the mountains and continuously being pursued by government troops.
"From the bottom of our hearts, welcome to the government and we'll make sure that our children will have a better and brighter tomorrow," Abalos said during the ceremony.
Abalos promised to facilitate and help realize the wishes of the ASG surrenderers to bring development and progress to the province of Sulu.
The surrenderers also turned over several high-powered firearms, which Abalos inspected during the ceremony.
Maj. Gen. Eden Ugale, officer-in-charge of the Area Police Command-Western Mindanao, administered the oath of allegiance of the ASG surrenderers.
Lt. Gen. Vicente Danao, PNP officer-in-charge, Sulu Governor Abdusakur Tan and other top police, military, and government officials witnessed the surrender ceremony of the 100 ASG members. (PNA)