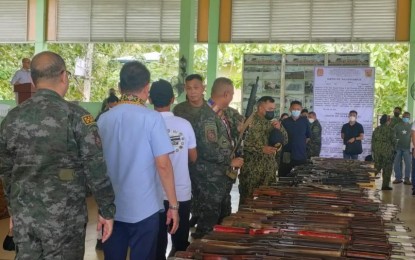 MANILA – The government will prove to former violent extremists, including the 100 Abu Sayyaf Group (ASG) members who surrendered in Sulu on Saturday, that they made the right decision in returning to the fold of the law.
Lt. Gen. Vicente Danao Jr., Philippine National Police (PNP) Officer-in-Charge, said the road to achieving lasting peace is long and challenging and involves an intricate process.
"Their surrender is a milestone but we prepared ourselves into making things work for them. We want to avoid the similar situation when they and/or other new recruits will be persuaded to join the rebels out of deceit," Danao said in a statement on Sunday.
The surrenderers must feel that the government is capable of helping them survive, he said.
"The PNP has this innate task to keep them away from harm, so with the rest of our countrymen," Danao said, adding they are in constant coordination with the Armed Forces of the Philippines and other law enforcers to monitor the movements of existing rebel and terror groups in Sulu and other identified "red" zones.
Priority is given to areas where there is an intense need to deploy more personnel due to the escalated violent condition.
"The PNP continues to implement programs and outreach activities in far-flung areas to move basic services closer to them," Danao said.
The surrender at the Sulu Provincial Gymnasium in Jolo also saw the turnover of 22 firearms and was attended by Interior Secretary Benjamin Abalos Jr., Danao and Sulu Governor Abdusakur Tan.
"It was a collaborative effort among law enforcers, government agencies and other stakeholders sharing a common goal to end violence in communities towards nation building," Danao said. "Proper coordination was done among government agencies and non-governmental organizations who pledged help for the rebel returnees."
Food packs and monetary aid were distributed while their way of living and progress will be monitored.
The surrenderers, who came from the Sulu municipalities of Indanan, Omar, Maimbong, Panamao, Talipao and Patikul, will be enrolled in the Enhanced Comprehensive Local Integration Program for financial and livelihood assistance.
"From the bottom of our hearts, welcome to the government and we'll make sure that our children will have a better and brighter tomorrow," Abalos said during the ceremony.
Alias Sattar, 41, who was an ASG combatant for over 10 years, bared during the ceremony that they were forced to take up arms due to their circumstances in life, particularly the lack of opportunities, according to the PNP.
"We were forced to fight the government because of our situation in life. But now, the government is showing sincerity in helping us so we want to return and start over again," he said in the vernacular. (PNA)