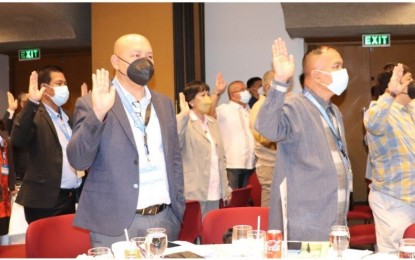 MANILA – The Marcos administration will appoint public managers based on their merit and fitness to do their government functions and not at all about political connections.
At the 3rd Public Leaders' Summit (PLS) conducted by the Career Executive Service Board (CESB) last week, Executive Secretary Victor Rodriguez said public managers must enhance their strategic thinking skills, practice foresight, act with agility, behave with integrity, and "unite as one public servant with purpose".
"The President yearns for a decent future for all Filipinos and nothing less," Rodriguez said in his speech at the Philippine International Convention Center in Pasay City.
He emphasized that without the help of career executive service officers (CESO), the vision of President Ferdinand Marcos Jr.'s administration won't be achievable.
"You (the CESOs) will set the tone for the outcome of the President's vision," he said.
While CESOs already have what it takes to navigate the VUCAD (volatility, uncertainty, complexity, ambiguity, and diversity) world, Rodriguez noted that "there are certain attributes and skills that public managers must still develop to thrive in the present context."
The two-day summit "Leading Change: Focus on the Core" discussed CESO functions for good governance as well as their competencies, mindsets, and values, that are necessary to navigate the terrain of public service.
"The career executive service community must use the present political transition to emerge not just to a new, but to a better normal. This is done by harnessing the innovative spirit of the civil service," said Civil Service Commission Chairperson Karlo Alexei Nograles in his speech.
Engelbert Caronan Jr., CES Governing Board member and president of the Development Academy of the Philippines, said public service is again in the "throes of a great social reengineering process".
"The philosophical underpinnings of the CES and the DAP goes back to The New Society of President Ferdinand Marcos Sr.," he said.
Maria Marcy Cosare-Ballesteros, CESB executive director, said Rodriguez's presence during the summit showed the "administration's commitment to a professional executive level of the bureaucracy".
"May this be the beginning of greater collaborations between the CESB and the Office of the President, and of better days for the career executive service," she said.
The summit, held July 26 and 27, was the first in-person gathering of CESOs and career service eligibles since the outbreak of the Covid-19 pandemic in March 2020. (PNA)