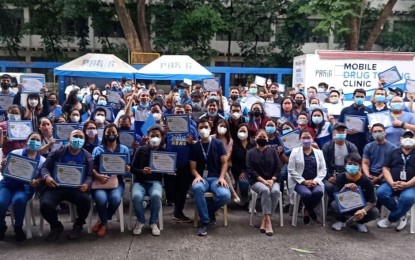 MANILA – The Pasig City government paid tribute to health care workers for their relentless and exemplary service amid the Covid-19 pandemic.
Mayor Vico Sotto, in a social media post over the weekend, thanked all their medical frontliners who kept the city's centralized isolation facility in Rizal High School (RHS) running for more than two years.
"Words cannot express how thankful, how proud I am of these people," Sotto said.
Two weeks before the imposition of the first strict lockdown in 2020, Sotto said three staff from the Disaster Risk Reduction and Management Office approached him with a proposal to convert the school into a centralized quarantine facility.
"Nung panahon na 'yon, tinawanan pa kami ng iba. OA daw. Pero pina-go namin ang plano (At the time, people laughed at us. They said we were overreacting. But we gave the plan the go signal)," Sotto said.
Sotto recalled how the city's staff, medical professionals, and the private sector put up the isolation facility, resulting in the 10-building Centralized Quarantine Facility.
A week after its completion, the Department of Health inspected the RHS and approved its use as a Covid-19 facility.
In May 2020, the RHS began accepting coronavirus patients for isolation, as determined by the City Epidemiology and Surveillance Unit.
The facility can accommodate up to 1,000. Patients are discharged once cleared by in-house doctors.
The quarantine facility will revert to the RHS in preparation for the opening of school year 2022-2023 in August.
Joseph Geollegue, a recovered Covid-19 patient, thanked the workers for braving the risks of the Covid-19 infection to serve patients.
"I tested positive for Covid-19 (Delta) almost a year ago and got admitted to Rizal High School quarantine facility for 10 days. I witnessed the enormous passion, courage, and selfless dedication carried out by everyone in the facility," he said in a social media post.
Aside from RHS, the city also converted Dahlia Hotel into an isolation facility that can serve up to 300 patients.
Pasig has 316 active Covid-19 cases as of Saturday.
Overall, the city has 83,507 confirmed cases, 81,581 recoveries, and 1,610 deaths. (PNA)