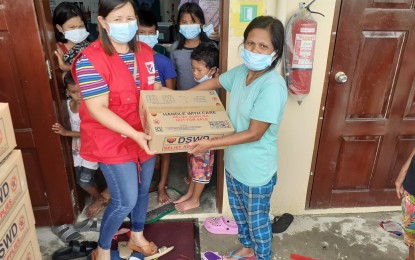 SAN JOSE DE BUENAVISTA, Antique – Some 57 families who were preemptively evacuated due to the southwest monsoon enhanced by Tropical Depression Ester in the province of Antique have returned home with the weather now improving.
Antique Provincial Disaster Risk Reduction and Management Office (PDRRMO) chief Broderick Train said in an interview Sunday said the families comprise 198 people who were evacuated due to floods in the three towns of Sibalom, San Jose de Buenavista and Hamtic.
"The families have started to leave the evacuation centers this morning, July 31," he said.
The PDRRMO together with the Antique Provincial Social Welfare and Development Office (PSWDO) reported a total of 855 families affected by floods composed of 2,907 persons in the three towns.
Of the total number, only 57 families transferred to schools in their localities that served as evacuation centers, while 86 families composed of 303 persons opted to stay with their relatives in other areas.
The remaining number of families stayed in their homes despite the rising floodwater.
Train said the Department of Social Welfare and Development (DSWD) was quick to distribute family food packs to the affected households.
Ma. Dominga Zarragoza, a social worker at the Sibalom Municipal SWD, said in a separate interview that there were nine families who stayed at the Odiong Elementary School in Barangay Odiong because of the flood.
"There were also some families who only temporarily stayed with their relatives," she said.
Zarragoza said Barangays Odiong and Catungan 1, 2, 3 and 4 were affected by the flood.
Meanwhile, Jeffrey Gabucay, the DSWD-Antique Pantawid Provincial Link who was in charge of the relief distribution, said 102 families will receive PHP3,000 each from the agency as aid to individuals in crisis situation (AICS) on Monday, August 1.
"The financial aid will be given to 26 families in Barangay Bugarot in San Jose de Buenavista and then 76 families in the affected barangays in Sibalom," he said. (PNA)