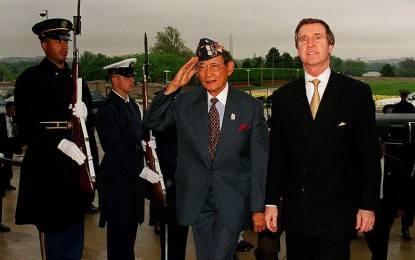 MANILA – The Department of National Defense (DND) joined the nation in mourning the passing of former President Fidel V. Ramos, officer-in-charge Undersecretary Jose Faustino Jr. said Sunday.
"Serving as the Secretary of National Defense from 1988 to 1991, President Ramos was a staunch advocate for the modernization and professionalization of the Armed Forces of the Philippines (AFP)," Faustino said in a statement.
He said Ramos underscored the importance of building a strong military organization and promoting collaboration with different stakeholders to uphold the nation's internal stability and security.
"His storied career in the military and in the public service earned him the admiration of Filipinos across political divides," he added. "The Department extends its sympathies to the family and friends of President Ramos during this difficult time. May God grant him eternal rest."
Ramos, who was 94, is entitled to state honors, DND spokesperson Arsenio Andolong said in an interview with the Philippine News Agency.
"Former President Fidel V. Ramos and (as a former) secretary of National Defense as well will be eligible for state honors which will include burial in the Libingan Ng Mga Bayani, which is located inside the Army headquarters in Fort Bonifacio, Taguig, complete with military honors. We condole with his family at this time," Andolong said.
Andolong added the family has the option to decline the honors.
"Actually, all of (these) honors, they may decline if they so wish," he said.
Other honors that the former president is entitled to is to have his remains placed for viewing at the AFP general headquarters in Camp Aguinaldo, Quezon City and a state burial with full military entourage.
Ramos was born on March 18, 1928 in Lingayen, Pangasinan and served as the 12th president of the Philippines from 1992 to 1998.
He served as AFP Chief of Staff during the time of Corazon Aquino from 1986 to 1988 before being appointed as DND chief from 1988 to 1991.
Ramos was a member of the US Military Academy Class of 1950. (PNA)