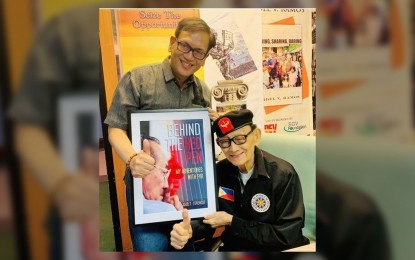 MANILA – Lawmakers released statements on Sunday to pay tribute to the legacy of former president Fidel V. Ramos, who died at the age of 94, describing him as a "visionary" in public service and a "true icon" of Philippine democracy.
Deputy Speaker Ralph Recto said Ramos was "brave in war, industrious in work, visionary in public service, and helpful to his fellowmen."
"He was the Steady Eddie who led by infectious and inspiring example, from the trenches of Korea, to the corridors of Malacañang. Whether in the battlefield or in the bureaucracy, he was daring in deeds and bold in thinking," Recto said.
Recto said the former president was driven by this "Protestant-Ilocano-West Point work ethic" which ingrained in him the habit of "rising before dawn and toiling 'til midnight", adding that he was the first man in and the last man out of the office.
Recto recalled that when Ramos became president in 1992, it was during a time when the country was reeling from the devastation of the Mt. Pinatubo eruption and the Baguio earthquake, when "protected interests crushed competition and denigrated public service", and when "civil strife set back growth".
"In many places, when you open the taps, there was no water. You try to catch a plane, there was none. You lift the phone, you get a busy signal. You switch on the lights, there was no power," he said.
He said Ramos ended the "people's misery" by dismantling the protections which "infantilized" industries, promoted efficiency by bringing in competition, and levelled the playing field.
"And most admirable is that while he was trained as a soldier, and proficient in the art of war, he was a relentless peacemaker, who used diplomacy in forging peace deals with anti-government forces," Recto said.
PBA party-list Rep. Margarita Nograles remembered Ramos as a "true icon" of Philippine democracy, as well as the "prime mover" of several reforms that became the foundation of the country's national policies.
Nograles particularly cited the Build-Operate-Transfer law, which was a brainchild of the Ramos administration and is now known as Public-Private Partnership.
She said it was a "game-changing" measure that enabled the government to pursue big-ticket projects that are beneficial to Filipinos.
"My deepest condolences to the family and all the loved ones of former President Fidel V. Ramos," Nograles said. "Rest in peace, President FVR. Please say hello to my Papa "Boy Nogie" in heaven."
Albay Rep. Joey Salceda said Ramos understood the complex workings of the economy in an instinctive manner, noting that he was the most consistent and methodical in terms of policy.
"Without FVR, we would not have been able to solidify the bedrock of investor confidence that has since allowed the country to grow its economy for decades. Ramos equaled economic reform. The Ramos brand was a brand of seriousness in governance. Business knew he meant business," Salceda said.
Salceda pointed out that the country would have had a much weaker recovery from the 1997 Asian Financial Crisis if not for Ramos' reforms.
Ramos' death meant the end of an era, noting that the former executive helped shape the nation's modern history, Salceda added.
"Those of us who learned from and worked with the man are left to ponder his legacy and carry on his work of nation-building. May we continue to work, and may he find his rest," Salceda said.
ACT-CIS party-list Rep. Jocelyn Tulfo, meanwhile, said Ramos' "decisive and remarkable leadership" led the country in restoring its economic growth and stability and paved the way for technological developments.
"Truly, his invaluable service and contributions to the country will always be remembered and his passing will be mourned by the Filipino people and the nation. Paalam at maraming salamat, Pangulong (Goodbye and thank you, President) Fidel Valdez Ramos," Tulfo said.
Cavite Rep. Elpidio Barzaga said coalition-building is the "heart" of Ramos' governance.
"We lost a great leader.... My deepest condolences and sympathies to the family of former President Fidel V. Ramos," he said. (PNA)