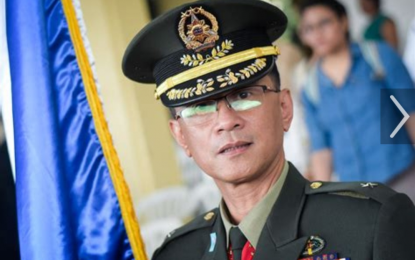 MANILA – President Ferdinand Marcos Jr. has chosen Lt. Gen. Bartolome Vicente Bacarro, commander of the Armed Forces the Philippines – Southern Luzon Command as new AFP chief of staff, Press Secretary Trixie Cruz-Angeles announced on Monday.
"The change of command for the new AFP chief of staff will be on August 8. This will give time for Gen. Bacarro to wind down at the SOLCOM and provide him with the transition to his new position in Camp Aguinaldo," Cruz-Angeles said.
A graduate of the Philippine Military Academy, Bacarro was born on Sept. 18, 1966 in San Fernando, La Union. He graduated in the upper quartile of PMA "Maringal" Class of 1988.
Angeles said outgoing CS-AFP Gen. Andres Centino, a classmate of Bacarro in PMA, is slated for a new post befitting a former chief of staff.
Republic Act 11709, signed by President Duterte on April 13 this year sets a fixed three-year tour of duty for the AFP chief of staff, vice chief of staff, the deputy chief of staff, the major service commanders (Philippine Army, Philippine Air Force, Philippine Navy), unified command commanders, and inspector general "unless sooner terminated by the President."
"Based on RA 11709, Gen. Bacarro will be the first CSAFP to be given a fixed three-year term," Angeles said.
Shortly after graduation, Bacarro was assigned with the 5th Infantry Division in Isabela province at the height of the counter-insurgency campaign in the Cagayan Valley from June 1988 until 1995.
For seven years, he held various positions in the 5th ID including platoon leader, company commander, administrative officer, intelligence officer, operations officer, civil-military operations office and secretary to the general staff.
It was during his assignment in Isabela province that he earned his Medal of Valor, the highest award for combat in the AFP. Bacarro was then an Army Lieutenant and serving as commanding officer of the 6th CAA Company, 21st Infantry Battalion, 5th Infantry Division.
The Medal of Valor was awarded to Bacarro on Dec. 21, 1991 for his "conspicuous acts of courage, gallantry and intrepidity at the risk of his life above and beyond the call of duty" during a 10-hour encounter with 150 fully-armed New People's Army (NPA) rebels who attacked the town of Maconacon, Isabela on Feb. 26, 1991.
In November 2004, he was designated Army spokesperson and chief of public affairs office in Fort Bonifacio. Later on, he became spokesperson of the AFP and chief of the Public Affairs Office in Camp Aguinaldo.
In 2014, Bacarro was designated as the chief of staff of the Army's 4th Infantry (Diamond) Division. He was also chief of staff for operations (OG3); commander of the 502nd Brigade, 5thID, PA and Commandant of the PMA prior to his assumption as AFP internal auditor.
Bacarro has undergone specialized military trainings, both local and foreign such as the Special Operations Team Training; Paratroopers Course; Basic and Advance Infantry Officers Course in the AFP. His foreign military schooling included the Combined Strategic Intelligence Training Program in Washington DC; Peace-keeping Operations Course in Canada; Public Affairs Orientation Course in Hawaii and the US Army General Staff Course at Fort Leavenworth, Kansas, USA.
Bacarro's more than 30 years in the Army earned him other awards and recognitions that include five (5) Distinguished Service Star for exemplary service; one Silver Cross Medal; two (2) Bronze Cross Medals for risking life not combat-related; two (2) Silver Wing Medals; nine (9) Combat Commander's (Kagitingan) Badges; 36 Military Merit Medals for administrative and combat duties; several Commendations Medals and the Wounded Personnel Medal for wound sustained in combat.
He was also conferred the Philippine Military Academy Outstanding Alumnus Award in 1998. Bacarro is also a member of the Special Forces family.
Bacarro is married to Soledad Bonsato Bacarro of Baguio City. They are blessed with three children: Arnold Wilfred, Tracie Kathlynne and Piolo Jeremy. (OPS)