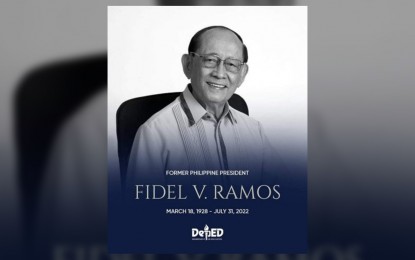 MANILA – Former President Fidel V. Ramos is considered a real patriot and a true champion of Philippine education, Vice President and Education Secretary Sara Z. Duterte said.
Duterte made the statement as she and the Department of Education (DepEd) joined the nation in mourning the passing of the country's 12th President, popularly known as FVR, on Sunday.
The Vice President, being a Mindanaoan, said she highly recognized the efforts made by Ramos during his presidency to achieve peace in their region.
"I am one with the whole nation in grieving over the loss of a leader who, during his presidency, made peace possible in Mindanao. In 1996, he signed the peace agreement with the Moro National Liberation Front (MNLF), which ended the 24-year Moro armed revolution headed by Nur Misuari," she said in a statement on Sunday night.
"He was a real patriot — one who encouraged men and women in uniform to value their integrity as public servants," she said.
Besides his efforts to ensure the Filipino workers' competence abroad through the "Philippines 2000" socio-economic agenda, Ramos was also known to be an advocate of quality education in the country.
"President Ramos will be remembered for championing education. During his term, he signed various education bills into law such as the Science and Technology Scholarship Law (RA 7687), the Dual Training System Act of 1995 (RA7686), the CHED Law (RA 7722), the TESDA Act (RA 7796), as well as a national system of excellence for teacher education under RA 7784, among others," the DepEd said in a statement.
Ramos, it added, has underscored the government's responsibility to ensure the "intellectual and moral strength" of the learners.
The Philippine flag in all DepEd offices and schools shall be flown at half-mast until after the burial of the former leader. (PNA)