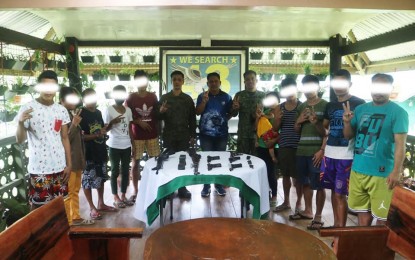 TACLOBAN CITY – The local government of Lope de Vega, Northern Samar and the Philippine Army have extended assistance to 10 former members of the New People's Army (NPA) to encourage more rebels to surrender.
1st Lt. Benigno Lopez, spokesperson of the Army's 43rd Infantry Battalion, said series of needed services have been provided to former rebels who surrendered on July 20.
"Besides the provision of immediate assistance, the municipal task force to end local communist armed conflict members decided to help in fulfilling the wishes of the surrenderers to be able to legally marry and for their children to get legal identities," Lopez said in a phone interview on Monday.
Lopez said Lope de Vega town Mayor Bobby Saludario handed over on July 30 at least PHP5,000 cash to each former rebel to help them rebuild their lives that was shattered by years of armed struggle.
Other services extended include mass wedding for four couples and christening of three children of ex-rebels.
The former rebels (not their real names) who yielded to authorities were Bravo, Cali, Jack, Toya, Maan, Alyana, Kardo, Sarimao, Orlan, and Pos-ok.
They also turned over a caliber 5.56 M16A1 rifle, one M1-Garand rifle, four .45-caliber pistols, one .22- caliber handgun, and one .38-caliber revolver.
Col. Perfecto Peñaredondo, commander of the Army's 80rd Infantry Brigade, lauded the efforts of soldiers and policemen for the successful surrender of the rebels.
"I encourage the remaining NPA members to abandon their armed struggle and avail of the services prepared by the government for them to live peacefully with their loved ones. The provincial and municipal task forces here in Northern Samar have prepared benefits to those who will surrender," Peñaredondo said in a statement.
Under the local social integration program and enhanced comprehensive integration program, former rebels or their qualified beneficiaries will get benefits ranging from guaranteed safety and security, financial assistance such as PHP50,000 subsistence allowance, PHP21,000 for food expenses while in custody of the receiving unit, and PHP15,000 for travel and mobilization expenses; and corresponding compensation for surrendered firearms.
They will receive these aid after completing the validation process, Lopez said.
The Communist Party of the Philippines-NPA is listed as a terrorist organization by the United States, the European Union, the United Kingdom, Australia, Canada, New Zealand, and the Philippines.
The Anti-Terrorism Council also formally designated the National Democratic Front as a terrorist organization on June 23, 2021, citing it as "an integral and inseparable part" of the CPP-NPA that was created in April 1973. (PNA)