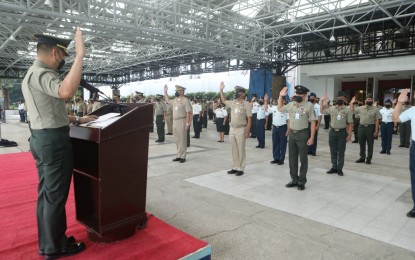 MANILA – Armed Forces of the Philippines (AFP) personnel on Monday reaffirmed their commitment to upholding the principles of the International Humanitarian Law (IHL).
This took place during an oath-taking ceremony at the AFP headquarters in Camp Aguinaldo, Quezon City, which is part of the month-long observance of the IHL Month this August, AFP public affairs office chief Col. Jorry Baclor said in a statement.
AFP chief-of-staff Gen. Andres C. Centino urged the military to stay on the right track, improve performance and focus on accomplishing the mission of protecting the people and the state.
"Over the years, much has been done to institutionalize the fundamentals of IHL, all of which underscores the importance of human rights and dignity and their protection above all else," Centino said in a speech delivered by AFP deputy chief-of-staff Vice Adm. Rommel Anthony SD Reyes.
"Today, we reiterate our collective commitment to contribute to the full and proper implementation of IHL in all our campaigns and operations," he added.
The IHL is a set of rules which seeks, for humanitarian reasons, to limit the effects of armed conflict. It protects persons who are not or are no longer participating in the hostilities and restricts the means and methods of warfare.
AFP Center for Law of Armed Conflict director Brig. Gen. Joel Alejandro S. Nacnac led the reading of the pledge that reaffirms the AFP's adherence to the principles of IHL and commitment to its promulgation to all military and civilian personnel.
With the theme, "Upholding IHL as we Recover from the Pandemic: Bayanihan to Reduce the Suffering in Armed Conflict Toward Advancing the Gains of Peace and reconciliation," this year's commemoration highlights the importance of IHL in preventing unwanted sufferings of actors involved in armed conflict. (PNA)