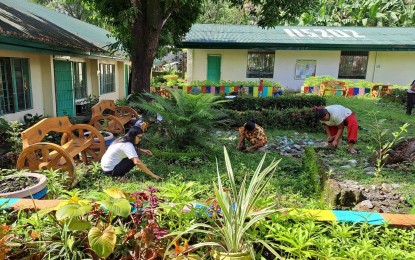 SAN JOSE DE BUENAVISTA, Antique – The Department of Education (DepEd) Schools Division of Antique with 534 public schools under its helm joined the Brigada Eskwela that started simultaneously nationwide on Monday.
DepEd Antique School Governance and Operations chief Evelyn Remo, in an interview Monday, said the Brigada Eskwela is conducted prior to the school opening to make sure that schools are prepared to welcome their learners.
"The 45 schools that had been previously approved to have limited face-to-face classes will continue to implement it starting August 22, while the other schools will have a blended learning or combination of face-to-face, modular or remote learning," she said.
The full face-to-face classes will start on Nov. 3.
"We are now preparing the school facilities by doing minor repairs of the classrooms and carrying out cleanliness activities," she said.
DepEd is enlisting the assistance of the stakeholders, who are parents, alumni, local government unit (LGU), and the community, to help in the school preparation by holding the Brigada Eskwela.
DepEd Antique Division Brigada Eskwela coordinator Roselyn Abuela said there will be a caravan and then a kick off program for the province to be hosted by the Antique National School (ANS) in San Jose de Buenavista on Aug. 11.
"The provincial kick off will be hosted by ANS considering that it is the biggest secondary school in Antique," she said.
ANS has around 8,000 learners enrolled, which is the biggest in the province last school year.
In a separate interview, Patnongon District Brigada Eskwela coordinator Maricriz Magbanua said there are 17 elementary and one secondary school under their district.
"We are tapping the stakeholders if they could support us in terms of thermal scanners and disinfectants that are being needed by our learners as they go to school and in adherence to the coronavirus disease 2019 (Covid-19) health protocol," she said.
She said the schools also need paint for the repainting of classrooms and school supplies.
She also said there are schools that have established their reading centers or corners like in Igbarawan-Mabasa Elementary School in Barangay Igbarawan where the stakeholders could donate books for the learners. (PNA)