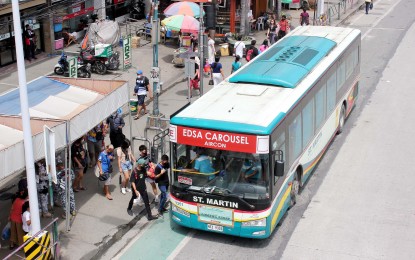 MANILA – Bus operators providing free rides at the Epifanio de los Santos Avenue (EDSA) Busway have so far received PHP445.66 million in compensation under the third phase of the Service Contracting Program (SCP).
In a statement on Monday, Land Transportation Franchising and Regulatory Board (LTFRB) chair Cheloy Garafil said the amount pays for the sixth week to the 13th week of the SCP Phase 3, with the payments for weeks 14 and 15 currently being processed.
"The agency is now in close coordination with the public utility bus (PUB) consortia operating the EDSA Busway to begin processing of payments for week 16, which ended last week," Garafil said.
PUB bus drivers and operators earlier complained of late payments under the program, with Garafil earlier promising to expedite payments in return for maximizing the deployment of buses during rush hours.
"LTFRB will continue to address issues and concerns with regard to the current public land transportation system in line with the mandates of the new administration to improve the lives of our operators & drivers and the commuting public," she said.
In July, Garafil, together with Transportation Secretary Jaime Bautista and representatives from the two PUB consortia operating along the EDSA Busway, met and discussed ways to address the lack of PUBs along the Busway during rush hours, resulting in long lines of commuters.
In return for accelerating the free ride program's payout, the consortia have been ordered to deploy 440 PUBs during rush hours, the maximum allowable number of units, compared to an average of only 200 that the consortia have deployed in the past. (PNA)