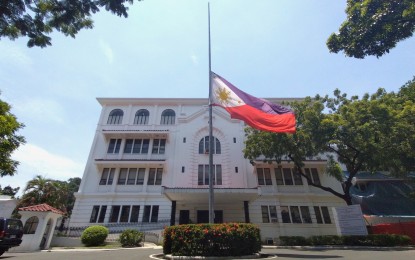 MANILA – President Ferdinand "Bongbong" Marcos Jr. has declared July 31 to Aug. 9, 2022 as national days of mourning for former president Fidel V. Ramos.
The Office of the President on Monday released Proclamation No. 33 to honor Ramos for 10 days.
"I, Ferdinand R. Marcos Jr., President of the Philippines, by virtue of the powers vested in me by the Constitution and existing laws, do hereby declare 31 July 2022 to 09 August 2022 as a Period of National Mourning over the passing of former President Fidel V. Ramos," he said in the proclamation.
The proclamation also said, "the national flag shall be flown at half-mast from sunrise to sunset, on all government buildings and installations throughout the Philippines and abroad, for a period of 10 days."
Under the proclamation, Marcos recognizes that "the death of Fidel V. Ramos, the twelfth President of the Philippines is a great loss to our country and the Filipino people."
The proclamation noted that aside from being President from 1992 to 1998, Ramos served as the Secretary of National Defense from 1988 to 1991, Chief of Staff of the Armed Forces of the Philippines from 1986 to 1988, and Chief of the Philippine Constabulary from 1972 to 1986.
"It is fitting to devote a period of national mourning to pay tribute to an esteemed leader who has dedicated his life to public service and has left a lasting mark on our country," the proclamation reads.
The Ramos family confirmed the death of the former president on Sunday.
"The Ramos family is profoundly saddened to announce the passing of former President Fidel Valdez Ramos. We thank you all for respecting our privacy, as the family takes some time to grieve together," they said in a statement.
They will be announcing wake and funeral arrangements "in the near future."
Ramos was the second cousin of Marcos' father, the late former President Ferdinand E. Marcos Sr.
Marcos Sr.'s paternal grandfather, Fabian Marcos, and Ramos' maternal grandmother, Crispina Marcos-Valdez, were siblings.
Ramos graduated from the United States Military Academy at West Point, graduating in 1950, and earned a master's degree in Civil Engineering from the University of Illinois in 1951.
He is also remembered as the founder of the PNP Special Action Force (SAF) and the Philippine Army's Special Forces Regiment.
Ramos briefly served as a special envoy to China during the first year of the Duterte administration in 2016.
Popularly known as "FVR", he was born in Lingayen, Pangasinan on March 18, 1928. (PNA)