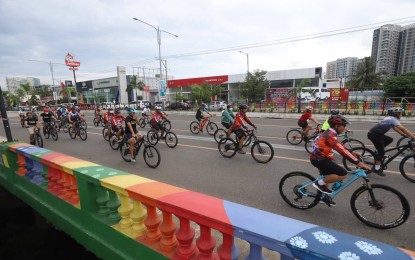 ILOILO CITY – Iloilo City has positioned itself as the Bike Capital of the Philippines that was officially launched on the last day of the three-day Iloilo Bike Festival 2022 on Sunday.
"Our city is really trying to do its best to promote Iloilo as the Bike Capital of the Philippines. Our city is trying its best to improve our bike lanes that were established at the time of Senator Franklin (Drilon) and improved further," said Mayor Jerry P. Treñas, in his regular press conference on Monday.
He said the local government will continue to work with the biking community in the city to improve the bike lanes and add more protective bike lanes.
The bike lane that was named as Iloilo City Network covers 11 kilometers of paved road but the city continues to look for areas where it can be extended, the mayor said.
He said the city government will also look into providing protection for the bike lanes while it continues to implement the no parking zone by virtue of an ordinance to free the dedicated lane from other types of vehicles.
Treñas said the Tourism Promotions Board (TPB) has allocated PHP10 million to the city to help in the promotions.
TPB Chief Operating Officer Lawyer Maria Anthonette C. Velasco-Allones, who was represented by TPB Acting Head for Marketing and Events Division Eloisa Romero during the launching, said their support to the bike tourism is their response to the sentiments of tourists who are "longing for more outdoor activities" that allow them to "rediscover the iconic sites of the place and in-between stops and or at end of the ride be able to experience and taste gastronomic flavors unique to our communities".
The event, she added, is also aligned with their advocacy on responsible tourism since biking helps bring down carbon footprints.
"We commend your efforts to also support your creative villages and artists by tapping them to create murals that make the bike pathways a site to behold," she said.
The tourism department, represented by its Western Visayas regional director Cristine Mansinares, said they are certain that biking will "bring in more investments and inspire more destinations".
"This will also allow the expansion of economic and livelihood opportunities of local government units across the Western Visayas and harness the potential of the tourism sector as an engine for sustainable growth," Mansinares added. (PNA)