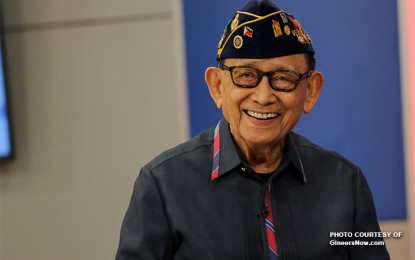 MANILA – Economic reforms instituted during the Ramos administration paved the way for the government to embrace as a development vision the improvement of quality of life of every Filipino.
Budget and Management Secretary Amenah Pangandama, in a statement on the passing of former President Fidel V. Ramos on Sunday, said it is during the Ramos government that the country became known as the "tiger cub economy in Asia."
"We remember President Ramos as a strong and decisive leader under whose administration government budgeting took on the mission of becoming an instrument for economic growth. In 1992, his administration's Medium-Term Philippine Development Plan (MTPDP) made improving the quality of life of every Filipino its development vision," she said.
Ramos, 94, served as the country's 12th chief executive from 1992-1998.
Pangandaman said the Department of Budget and Management (DBM) will honor the late President's legacy "by continuing to work hard to achieve our common dream of a better nation for all."
"May the Lord bless His diligent servant who worked hard for the upliftment of the Filipino people," she added.
In a separate statement, Socioeconomic Planning Secretary Arsenio Balisacan also extended his condolences to Ramos family.
"While in the academe, I saw firsthand and closely followed how his economic and social reform agenda, which centered on opening the economy and people empowerment, paved the way to foundational economic transformation. He provided the country with much-needed stability against threats from within," he said.
Balisacan said Ramos was also a visionary, noting that "his foresight and steadfastness enabled the Philippines to weather the 1997 Asian Financial Crisis and be among the continent's "Tiger Cub Economies.""
"We will continue to honor and build on his legacy as we pursue the country's long-term vision of a matatag (stable), maginhawa (convenient), and panatag na buhay (secure life) for every Filipino," he added.
Ramos graduated from the United States Military Academy at West Point in 1950.
Prior to becoming one of the country's Presidents, Ramos served as the Chief-of-Staff of the Armed Forces of the Philippines (AFP) from 1986-1988 and the Secretary of National Defense from 1988-1991, both of which were during the first Aquino administration. (PNA)