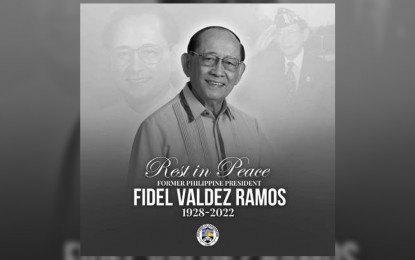 LEGAZPI CITY – The Albay provincial government flew the Philippine flag at half-mast to honor former President Fidel V. Ramos who passed away on Sunday.
Lilibeth Dimaculangan, Albay provincial information officer, in a message on Monday said Governor Noel Rosal expressed his condolences to the family of the former leader.
"The people of Albay mourn the passing of Former President Fidel V. Ramos, the 12th President of the Republic of the Philippines. His passion and commitment to serving his fellow Filipinos will always be remembered. You are an inspiration to us all," Dimaculangan said, quoting Rosal's message.
She said following the executive order of President Ferdinand Marcos, the flag shall be flown at half-mast as a sign of mourning in all buildings and places in Albay for 10 days.
Political leaders in the Bicol region also expressed their sorrow over the death of the former leader.
Albay First District Representative Edsel Lagman said, "FVR was a staunch reproductive health (RH) advocate".
"Not known to many, President Fidel V. Ramos was a staunch advocate of reproductive health. He attended many meetings of supporters of the reproductive health bill, together with his sister, the late Senator Leticia R. Shahani, in designing strategies to facilitate the passage of the then-controversial measure," Lagman said in a statement.
He said Ramos delivered speeches and wrote articles urging the enactment of the reproductive health law.
"His advocacy for reproductive health started when he appointed Dr. Juan Flavier as Secretary of Health, who was likewise an RH advocate. President Ramos underscored during his term the urgency of progressive family planning and population policies," he added.
Second District Rep. Joey Salceda called former President Fidel V. Ramos a "mentor and a model for my life in public service".
"The former President helped birth my career in public service. During the peak of my career in the private sector as an analyst, President Ramos would consult me on matters of national concern. That was when I became convinced that I could serve the country in a greater way. Just as he was leaving office, I ran for Congressman in Albay," Salceda said in a statement.
"Without FVR, we would not have been able to solidify the bedrock of investor confidence that has since allowed the country to grow its economy for decades. Ramos equaled economic reform. The Ramos brand was a brand of seriousness in governance. Business knew he meant business," he added.
"When FVR talked of nation-building, and he talked a great deal about it, you knew it wasn't hollow ostentatious talk. He meant what he was saying, and you took him seriously."
Senator Francis Escudero, former governor of Sorsogon, said in his Twitter post: "My sincere condolences to the family and loved ones of former President Fidel V. Ramos. Rest in peace, Mr. President...You will be missed." (PNA)