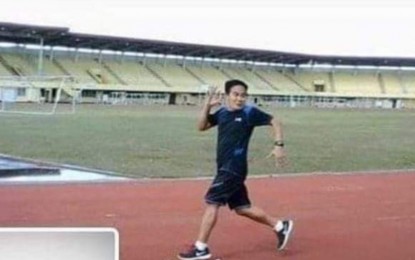 MALASIQUI, Pangasinan – A 53-year-old Pangasinense will attempt to set a Guinness World Records for backward running this December.
In a phone interview on Monday, Alfonso "Jojo" Bigay said the Guinness Book of World Records has accepted his application to beat the world record for fastest run backward 100 and 200-meter male category.
"There is a go-signal from Guinness. It will probably happen this December at the Narciso Ramos Sports and Civic Center (NRSCC) oval area in Lingayen town, Pangasinan," he said.
Bigay said he targets to beat the 13.6 seconds in 100 meters by Germany's Roland Wegner and 30.99 seconds in 200 meters by Spain's Christian Rodriguez.
"I wanted to prove that Filipinos can excel in the field of track events where height is might by breaking the existing Guinness backward running word record," he said.
Bigay was set for the bid last December but he was injured while training.
Nonetheless, Bigay is continuing with his training to achieve his goal.
"I am regularly training at the beachfront and at the NRSCC. I also do stationary bike backpedaling, skip rope, and many more. My sport doesn't get that much attention because it is not popular but I want to do this to bring honor and pride to our province and the country as well. I thank my sponsors today for believing in me and my goal," he said.
He appealed to Pangasineses for moral support as their presence and cheers will keep his adrenaline up to beat the world record.
Meanwhile, Bigay encouraged the youths to try his backward running sport, which is twice beneficial as the usual running sport.
Bigay started as a track runner before he became a backward runner in 1991. (PNA)