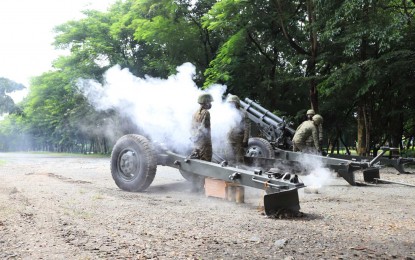 MANILA – The Philippine Army (PA) has fired its saluting batteries to honor and pay respects to former president Fidel V. Ramos who passed away last July 31 at the age of 94.
"The Fort Bonifacio-based Saluting Battery of the Army Artillery Regiment also joined the nationwide simultaneous gun salute at key military camps. An initial eight-volley fire kicked off the gun salute that started in the 5 a.m. reveille and ended in the 5 p.m. flag retreat," PA spokesperson Col. Xerxes Trinidad said in a statement Monday night.
He added that all Philippine flags at the Army headquarters in Fort Bonifacio and PA camps and bases nationwide were also flown at half-mast.
"The Philippine flag in Fort Bonifacio, Metro Manila, and other key military installations nationwide were flown at half-mast on August 1, 2022 in a show of solidarity with the nation that is grieving the passing of the 12th President and Commander-in-Chief Fidel V. Ramos," Trinidad said.
He also added that the PA chief Lt. Gen. Romeo S. Brawner Jr. led the Army headquarters-based officers and personnel in wearing the 'badge of mourning' on the left sleeve of the uniform following the official reading of the former president's notice of death on the morning of Aug. 1.
"The 110,000-strong Philippine Army mourns the loss of a great leader and an illustrious soldier who truly embodied the organization's core values of honor, duty, and patriotism," Trinidad said.
Special Forces pay tribute
The Special Forces Regiment (Airborne) [SFR(A)] also joined the nation in honoring the life and legacy of Ramos, their founding commander.
"Members of the Special Forces family, active military personnel and retired, are saddened by the passing of its founding commander," SFR(A) commander Col. Ferdinand Napuli said in a statement.
"His legacy will continue to be woven into the lives of every Special Forces operator," he added.
The Philippine Special Forces was founded on June 25, 1962, with then captain Ramos serving as the commander of the 1st Special Forces Company (Airborne).
Over decades, the unit expanded from one company to a regiment with 20 companies, mostly deployed in Mindanao.
"On my ninth year as a Captain, after having undergone intensive training at Fort Bragg with three other Filipinos, I was privileged to lead the newly created 1st Special Forces Company (Airborne). Only one of every five candidates passed the rigid physical and psychological fitness tests. We spent months surrounding the mountains of Fort Magsaysay to set up jungle training areas, doing hundreds of kilometers of road runs, and jumping from old but reliable, C-47s into diversely unfamiliar drop zones," the late former president wrote in the coffee table book commemorating the 50th anniversary of SFR(A).
"We did the first para-drops on Manila Bay, Camp Murphy (before it was renamed Camp Aguinaldo), and Fort Mckinley. In addition to honing our airborne skills, we became highly proficient in jungle survival, escape and evasion techniques, and scuba diving. We functioned as a small, well-oiled team with specialists in intelligence, weapons, demolition, communications, and medical support," Ramos said.
Ramos served as the Philippines' 12th president from 1992 to 1998 and as Armed Forces of the Philippines chief from 1986 to 1988.
He was appointed as defense secretary by former President Corazon "Cory" and served from 1988 to 1991.
Ramos was born on March 18, 1928 in Lingayen, Pangasinan and is a member of the United States Military Academy Class of 1950.
He was a member of the Philippine Expeditionary Forces to Korea (PEFTOK) and served in various military command positions throughout his long military career. (PNA)